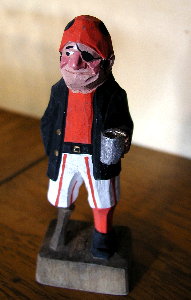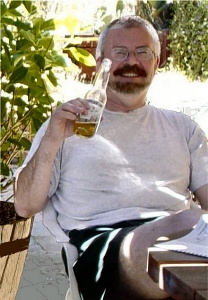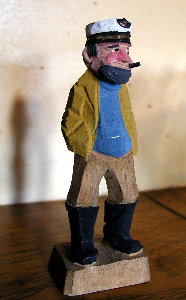 Travels and Images
WEEK 16 2004
Last Week- Sun- Mon- Tue- Wed- Thur- Fri- Sat- Next Week
---



Saturday - ran across this on some internet blogs:



1. Grab the nearest book.




2. Open the book to page 23.




3. Find the fifth sentence.




4. Post the text of the sentence in your journal along with these instructions.



Okay, the

Compaq Fortran Language Reference Manual

. It's already not looking so good...

No page 23. Uh-oh. Chapter are paginated 1-xx, 2-xx, 3-xx, and so on. So, Chapter 3 being the first with over twenty three pages we'll try to go with that:



component

is the name of the component being defined.

Darn. Other people have books like "Gravity's Rainbow", or classics by Thomas Hardy.

I'm j

not cool

, still, just like high school...oh wait. Really it should be the twenty-third page, (right?) so if we add all the pages of chapter 1 and continue into chapter 2 then we end up at page 2-10 which contains the immortal line:

Although Fortran 95/90 permits up to 39 continuation lines in free-form program,

Compaq Fortran allows up to 511 continuation lines

.

Hmm. That actually came in use once, but it's not quite as dramatic as this guy quoting George Orwell. Press on, press on, the gauntlet has been thrown down - I'll include the pages with roman letters, and on page

xxiii

we have:

3-1 C-Style Escape Sequences...................................................................3-18

I give up.


And it isn't even XP

Professional

. Linux is the way to go I think...

Friday - off to work. This involved picking someone up, driving forty miles, realizing I'd forgotten some information, driving home and not being able to find it, driving back to the work site and finding the missing papers there

where I'd left them a month ago

.

Still a bit flu-ish, but better.


T

hursday - Feeling a bit sick, like the flu. But I did the taxes and turned them in. I saw the sign below when I got to the Post Office. Distance to Oxnard: 99.0 miles, Pasadena 68.3 miles, Van Nuys 52.5 miles. Does

anyone

think the Post Office deserves it's monopoly on first class mail any longer?

There was a time when the USPO was a necessary and useful organization, but those days are

long

gone. Now it's just a big bureaucracy that does less while charging more. Time to let UPS, FEDEX, DHL and the other incentive driven businesses step in and

do the job better and cheaper

.


"Convenience" as defined by the USPO - two hour plus drives in city traffic...

Wednesday - heading back to Lancaster after lunch, have to turn in the taxes and I need to research some stuff before tomorrow. The taxes are done, but I'm just not sure about a couple of things...

Did I mention my Dad's dog is an alcoholic?


Just a wee nip...

Tuesday 13 April 2004


Tuesday - Barry Bonds finally did it, at a home stand, 660 home runs, equaling Willie Mays:

Barry Bonds starts around the bases after hitting run 660.

Monday - last picture from the russian watch.

From the watch, Yuri Gagarin himself.

Sunday - up visiting my Dad, so posts will be light. Things are nice here, good spring weather. The trip up was good, and it's nice to just relax.

Here's a shot from the trip up, windmills in the Tehachapi Mountains. Click to run the

12 Megabyte

movie:

Photo Notes
: The roses are blossoming in my front garden, and many other flowers whose names I do not know.