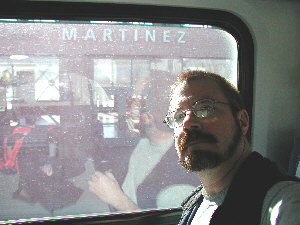 Travels and Images

Last Week < Sun- Mon- Tue- Wed- Thur- Fri- Sat > Next Week
---
Sunday 12 May 2002

Sunday I took it easy, didn't do much. So there...

Actually, I went with a friend and her family to see "Spiderman" finally. It was pretty well done - stuck close to what I recall of the comic strip, but with a few surprises, such as how he gets the name.

The dogs got out in the early evening, and a nice lady brought them back, the little #!*&'s. Then I took them for a walk. They are fairly well behaved - when a rabbit bolted across the street in front of them they did not give chase. When I come to the turn-around point Taffy does whine a bit - smart dog that!

I bought a battery for the laptop - I happened to be in Best Buy, which is next to our local Barnes&Noble, and looked down to see a single Sony Vaio BP71A battery just sitting on the shelf - for slightly less than what most online sellers wanted! Granted I had to pay 8% California sales tax, but not any shipping. So, that's done.

The dogs are still here - I thought I'd be done with them today. Oh well, another night or two. It's rather slow here tonight, just a little clean-up ( ugh - ants! ) and what not. Tomorrow the dentist and orthopedist, again.


The orthodontist said "work to be done " - but not for a month or so. The hand surgeon had me in surgery last night so it's one handed typing for a while. I guess I came close to losing a tendon from lack of attention. This surgeon reminds me of Richard Dreyfus, seems like a good guy. I'd never had general anesthesia before - wow, l ights out!

Wednesday's dinner was Cousins - a little local joint. I met up with some friends, back from Hawaii, looking tanned and rested! I should go sometime. They swam and snorkeled and hiked and generally had a good time it seems!!

We went and looked for a new printer - laser, not inkjet, for small business duty, but they are thin on the ground around here. I like the Lexmarks' because they are a spinoff of IBM and really solid, but we couldn't find any. So maybe a Brother 1440 - if they are in stock hereabouts.... There are a zillion inkjet models, which are pure profit because of the ink costs. I understand the EU is looking into that scam. Market forces should eventually cause someone to undercut the current rip-off, assuming no monopolistic and/or conspiratorial going-ons.

If you've been following the financial news that may seem a little dubious - the dot-com bubble was at least partially the result of the regulators looking the other way while 'analysts' lied and 'independent' accountants cooked the books. We've been badgering the Japanese about the problems in their banking system that have mired them in trouble for years - we may have problems of our own.

My hand hurts, so goodnight all!


There was a visitor in today from NASA Langley and he's promised us the data we've been trying to obtain for the last six weeks. Real Soon Now.

Tim graciously prepped the swamp cooler last night, so nice (cheap) AC is available. And he helped me tie my shoes - what a guy!!



My brother Mike and I are swapping cars for a couple of weeks, until the cast is off my hand...

Someone has described the current STAR WARS plot as: "Stupid Jedi, bringing knives to a gunfight..." Heh. I 'm looking forward to seeing it myself!


Friday - long day. Not much to say.




Saturday - a little under the weather - taking the day off.
---
Photo Notes: This is a bench across from the Meslip Hotel in Dublin, Ireland. On it is a bronze statue of someone sitting - I'm not sure who, it's one of the mysteries of that place to me. The other is: what did the hotel do with my wash? We may never know...