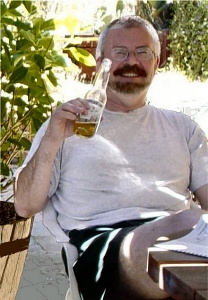 Travels and Images

Last Week < Sun- Mon- Tue- Wed- Thur- Fri- Sat > Next Week
---



Saturday - I tried to sleep in, but the cats' didn't care for it. So at five thirty I pretended to walk down the stairs, and when they rushed ahead of me - snuck back into the bedroom, shut the door, and went back to bed. So there!

Joe SixPack: Ed, what about the growing menace from Dragons?
Ed: No problem.
Joe: Really? they were really scary in that movie.
Ed: Go here for a discussion of how well dragons would fare against a Ticonderoga class cruiser. Not well.
Joe: Cool. I feel safer now.
Ed: Any beer left in that six pack?





Friday - another work day, alas. The interpolator seems to be working properly. The CFD testcase I was working on seems to run OK now, though I need to check some parameters.

Stopped by my friends' on the way home and dropped off a copy of last night's pictures on CD. The camera can take low light pictures - but the exposures were on the order of 1 second, and most are, alas, blurred. Some came out OK however!

I'm ready for bed, but there is a football game going on at the local Junior College, it may be too noisy...





Thursday 31 October 2002


T

hursday - lots of Halloween fun. Apparently it was 'biker' as the dress up theme at work. Pretty neat costumes around the office. My friend Roger didn't come in, he was busy getting ready for the evening:
Costumed Friends

.......???

We had a couple of little girls and boys to take around, between various friends and relatives, and it was fun. To be honest I don't spend much time at my own house during halloween as a rule, preferring to visit with friends, but this year people came to my place for part of the night, and it turns out that there is a lot of "loot" to be had in this neighborhood! At a certain point both boys opted to forego more candy collection so that they could hide in the bushes and spring out at people!





Wednesday 30 October 2002
Wednesday - well, a full day of work. Not a lot to report there - just trying to debug some software.

Cats do not understand daylight savings time. The way they see it: I arbitrarily decided to sleep more and feed them an hour later each day. The way I see it: they have woken me up an hour early each day this week!

Not much else going on.



Tuesday - out sick again. I did a little bit of work on another interpolation problem, but didn't come to any final conclusion.

I have decided to reinstall the OS on my main system, which means I need to back it up first. Bah. Backing up to CD's is a real pain, particularly at 4X, but the USB ports stopped working some time ago because of bad HP software. And I'm still waiting for the recordable DVD field to shake out an inexpensive winner.

In honor of Halloween, here is a site on Comparative Anatomy of Skeleton' s, pretty cool. Apparently it works better in Internet Explorer and Opera than in Netscape, but there you go!

A friend sent this link to a Creepy Halloween Mansion - enter if you dare!


Monday - out sick. I did put in about half a day at home, fixing the problem with the allocable array stuff ( dimensions were way too big and the virtual memory settings way too small on the pc ) I also had to install GVIM and my Microsoft Fortran Compiler, and partition some new space on the hard drive.

In the evening I went out to the Lancaster Performing Arts Center to see The Pipes and Drums of the Royal Scots Guards . . bagpipes and drums, pretty cool. Our tickers weren't as good as for the Grapes of Wrath, supposedly, which meant we were farther back - well, maybe that was a good thing after all! Since I was sick I probably shouldn't have gone, but I'd already paid for the ticket, some time back.






Sunday 27 October 2002

Sunday - the flu. Feeling pretty cruddy. Those darn San Francisco Giants, you'd think that they could win one lousy game for a sick guy, but nooooooooo.......... I'm already sick of seeing Angels fans celebrate. The 49ers' won again, but it wasn't televised down here. The Oakland Raiders game was on tv, but they lost.






---

Photo Notes: Small Girl in front of Cathedral. Courtesy of my sister, probably taken in Bath, England. How many happy small children this church must have seen over the centuries...