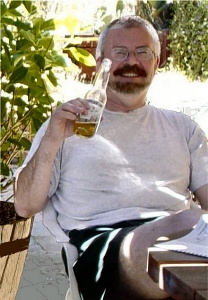 Travels and Images

Last Week- Sun- Mon- Tue- Wed- Thur- Fri- Sat- Next Week






---



Saturday - wasn't a particularly busy day. In fact, I'm not sure what I did, really. We got up late, and just kind of sat around. My brother and I went down to the boat. More bailing. Sigh. This is getting really old. It has a new pump, and a battery, and shore power to keep the battery charged, but there was 10 inches of water in the bilges and the battery was dead. Well, it's been submerged a couple of times, maybe it's shot. Also they have messed around with the shore power connection, it's now a new dock box, with metered power. Other than that, the boat looked OK.

We did talk to a guy who worked for a charter company locally. The boat with a broken mast, that I posted a picture of a while back, was one of theirs. Apparently while sailing in about 40 knots of wind an inner shroud parted, and the mast folded up, fairly gently. Nobody was hurt, and a new mast is on order.

Dinner was a great pot roast, cooked by my brothers' girl friend. Yum. Dad says there hasn't been a pot roast cooked in this house since 1994. Time flies. Then we all went out to see Harry Potter at the movies. It was almost empty in the theatre, so we were able to park right in front. It was a good movie, though perhaps not quite as good as the first. I have read the book, and the secret bathroom entrance makes a little more sense now - I could never quite visualize it.


Friday - the Thanksgiving dinner last night was as my sisters. Despite the distraction of a sick daughter and a number of other things that I won't go into, she put on a very nice spread. Turkey, dressing, pie (

yummm, pie...

), and some nice wine. Her daughter helped make the biscuits, and they were yummy as well. Have I mentioned my biscuit cravings before?

My brother and his friend are staying with us in Martinez. We had some nice shredded port sandwiches for dinner, as well as some cake, and some fresh baked bread. Then we sat around, talked, watched some home movies, napped (well,

I

did), and watch Jumanji on tv.


Thursday - yesterdays "bag of evil" was in fact the bag around some fresh baked bagels that I had brought up from San Diego. Late in the evening I heard a strange sound and went to investigate. It was Phoebe, behind the couch with the

shredded remnants of the inner paper bag - and bagels

. So, bah humbug on him!
On another note, people have been telling me that this page is hard to load, slow, pops up with errors. Looking at the HTML source, I see a LOT of garbage. Scripts, missing bits, mystery stuff from one of the many composers I have used. Apparently they don't all play nice with each other. So, I spent a good hour removing junk with WORDPAD and nicely formatting a clean copy again. Of course, the first time I used Netscape Composer it put some stuff back, and eliminated a lot of the whitespace, but it's mostly OK and seems to load reasonably well now...


Wednesday - I didn't write much yesterday, as I was tired and rather sad. What I didn't mention was that a friend had called me, early in the morning, with news that her cat had been hit by a car. She was very upset, and I did what I could to help, called around for a veternarian, went with her, and tried to be a comfort when it was decided that it was too badly injured to live, and had to be put to sleep. It was a wretched experience for us both.

I then had a scare the next day. When I came home from work the next day one of my cats, Phoebe, was missing. I looked all over the house, in the stove, in the fridge, under beds, in the garage, and eventually outside, asking neighbors if they'd seen him. No one had. I was upstairs, getting the car keys to head out to the pound when I heard a small sound. It was Phoebe, with part of a plastic bag around his neck. He was all right, except for being terrified. Apparently he had got the bag around his neck and ran terrified about the house until he realized that if he sat very quiet and still it would not rustle and scare him. My calling and even the sound of me picking up his food dish was not enough to make him move again until that bag was gone.

I policed the place, picking up a lot of bag bits, and other bags, but there is more to be done.

Prior to the holiday I have been trying to clean up the house, and to get ready for a visit north. One of the things I did was order a cat feeder, to offload some of the chores my cat sitters go through. It hasn't arrived yet, though I warned them to look for it, but when it does is should be the mother of all cat feeders, a Pet Safe UM-100.


Tuesday - assisted in two flights for the AAW. Everything went very smooth and normal. I was noticing how much more and better telementry we now get, compared to fifteen years ago - real improvements everywhere.



Monday - work. Went to a F18AAW crew brief for the Tuesday flights. It is always impressive to see the amount of care and professionalism that goes into a flight at Dryden. Tomorrow I probably will observe in the SAF (Structural Analysis Facility) as they continue to clear the plane's envelope. We have a new software package, IADS, that I need to see in action and come up to speed on in there.


Sunday - I was down at my friends, and got off to a fairly slow start. Saturday night I stayed up late watching "Spiderman" on my friends' new DVD player. I actually enjoyed it more than in the theater for some reason. So it was late to bed and late to rise. After a late breakfast of poached eggs on bagels I headed over to Fry's and picked up some computer components. At first I couldn't find the models and makes I had decided on, but persistence paid off and I walked out with enough stuff to build a nice new Pentium 4 when I get a couple of hours free. From San Diego back to Lancaster was about a 3 1/2 hour drive, with a stop for a fast food dinner.


---
Picture of the Week
Photo Notes: When down in Hollywood a while back I took this photo of a mural, just off of Hollywood's "Walk of Fame" on Hollywood Boulevard. I can recognize a few of the people, Marilyn, the Duke, but most are a mystery to me.