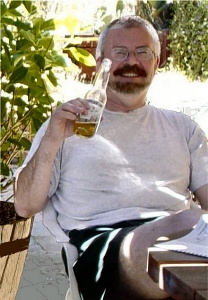 Travels and Images

Last Week- Sun- Mon- Tue- Wed- Thur- Fri- Sat- Next Week



---



Saturday - it's hard to get started. Of course the movie was three hours, and didn't get out until 1 a.m. . But I have changed the kitty litter, showered, and done this page - it's a start.

It occurs to me that I am going to come up odd on pages here. This page will become page week_51_2002.htm, and next week will be week_52_2002.htm , but that leaves Monday and Tuesday out, if I start week_1_2003.htm on the first. I guess I could extend week_52 a couple of days, or create a week_53. I feel a bit like Pope Gregrory XIII . Hopefully my hordes of readers won't riot in the street at whatever I decide....

Friday - a normal day's work. I drove the Mercedes in, as I hadn't used it in a while. Coming home the high gear in the automatic transmission started slipping. So I checked the fluid level, and, as far as I could tell under terrible sodium lighting, it was OK. So I drove home slowly, about 45mph, on side roads, arriving after about and hour and a half commute. Something to look into in the new year....

Later I went to see "The Two Towers" with a friend. Pretty cool. I'll have to see it again!

No time to play with the access point - errands to run, chores to do, cards to write, presents to wrap...


My brother's house, with fallen tree....

Thursday - I had thought about going out with the big (but poorly figured) Dobsonian scope to look at Saturn on Wednesday night, but it was - brrrrrr - cold. It actually dropped down to 17 Fahrenheit, about -7 Celsius or so. Below freezing. In the morning there was frost, and ice in the gutters.

It was a sunny but brisk day in the valley. Not as windy as Tuesday or Wednesday. Tuesday there were actually winds strong enough to snap telephone poles and collapse major trusses for power lines, right here in the valley. Peoples roofs were blown off.

I stopped at Circuit City after work and bought that wireless access point I've been lusting after. I could have waited until after Christmas, but I'm tired thinking about it, and of going in and looking at them!

Wednesday - not a lot to say. Just a lot of work and a bit of reading Unix manuals. There was a space station fly-over predicted at about 5:20 pm, so I pulled off the freeway about a mile or two, on the way home, and watched. It was as predicted, very bright. In my small binoculars it seemed to have a distinct, though small, square shape. Possibly I was just fooling myself. I then turned the binoculars on a bright start to the east. It was, as I thought, the planet Saturn. Even through small binoculars the rings, opened nearly as far as they can go, were apparent.

After getting home I did a little Christmas shopping with a friend. We managed to get in and out of the mall in a couple of hours with as much loot as we needed!


Tuesday - it didn't rain, but it was certainly cold and windy. I guess that the weathermen ( I almost said "weather people" but caught myself before getting all politically correct ! ) were right. It was snowing in Tehachapi, and coming home I could see a lightning storm in the mountains there - pretty intense.

Talking to my father last night, he was saying that it's been raining up there for a week. A tree, a Eucalyptus, fell on my brothers house. Bummer. My friend from Oxnard called from the beach to say waves were cresting over the breakwater!

Yeah, that little dot is a surfer.


We just got the one day of rain, and some wind and what not. More interesting than scary. We must have had a very brief power outage in town, because a couple of the electric appliances were blinking, dazed and concussed. One was the extra phone answering machine, so my callers got to hear two message's, including my classic message the would inspire people to say: "You sound like you're from Montana...". I'm not sure how that happened... pardner .

David Brin has an essay on the Tolkein movie "The Two Towers", essentially putting down it's embodiment of romanticism and anti-technologism. He's got a point, particularly as regards Princess Diana. I never liked her... I intend to go to - and enjoy - the movie anyway!


Monday -work. It rained, a lot.


Sunday - I spent the day with some good friends, down towards Oxnard. We visited Ventura, and saw the boats parade by with all their lights in the marina - see the picture below. This after a great steak barbecue dinner. The next day we stopped in Ventura and took a walk along the beach - I didn't know my friends were 'in training' and had to struggle to finish the four miles in an hour. But it helped to have a great lunch in the hotel....um....hotel something-or-other. Then we went and did some shopping up in Santa Barbara. I'm a California native, and have lived in Southern California for twenty odd years, and have never been there. It was cool, but not cold, and the traffic and Christmas crowds were fairly light. Lots of fun shops to look at, and electric trolleys to ride.


---
Picture of the Week
Photo Notes: When the Ventura 'Parade of Lights' was ended, with all the boats, 40 odd of them, having gone by twice, there was a fireworks display. They set off about twenty minutes worth in five minutes or so, pretty impressive - and making it easy to snap a picture!