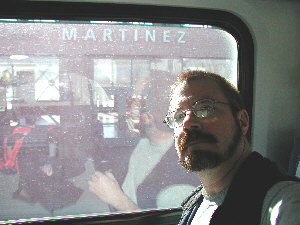 The Pre-Blog:Travels and Images

Last Week < Sun Mon Tue Wed Thur Fri Sat > Next Week

---
Sunday 27 January 2002

Sunday - A late lunch at York Shore House with friends. This is a local ripoff of Yorkshire House, but actually has OK fish and chips. I apparently pick up the tab for $31.28.

Monday -


Tuesday 29 January 2002

Tuesday -

Wednesday -

Thursday - based on a recommendation from Steve's Digicam's I buy some PowerX Nimh batteries from Thomas Distributing, along with a charger. These turn out to be excellent batteries, much better than the locally available off-the-shelf stuff. Half again the pictures per charge when using my Olympus digital camera.


Dinner at Black Angus, with my brother.


Friday - My brother Bob has come down to visit, and we make a trip down to the Blackbird Air Park:



And then we head up to Mt. Wilson:


Saturday - visiting the Queen Mary, down in Long Beach. My brother Bob, and my brother Mike and his girlfriend come along as well.


K, Mike and Bob, in front of the Queen Mary.
Picture of the Week


Waterfall at J.P. Getty, California, USA