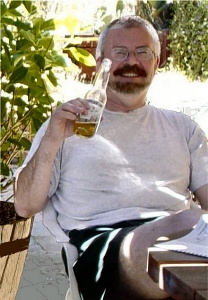 Travels and Images

WEEK 13 2003

Last Week- Sun- Mon- Tue- Wed- Thur- Fri- Sat- Next Week



---



Saturday - just a nice slow day. I think I needed to just sit for a while.

Some interesting Iraq War web sites:
The Command Post
The Agonist
Sgt. Stryker


I ran across a review of the just released movie The Core at a Canadian web blog site called Daimnation that I'll quote part of here:

The Core is so horrendously awful, in the most over-the-top way, that it actually qualifies as a genuine, good bad movie. It's not an unsufferable piece of crap like Armageddon, with all its speechifying and cheap sentiment; it's more like Hudson Hawk, in which the filmmakers and cast realized they were making a total mess, so they might as well have some fun doing it. This is a movie that cries out for running commentary by Crow and Servo. It's so staggeringly bad, I can't recommend it highly enough.


Friday - some weeks it just doesn't pay to get out of bed. More work. I was going to visit my Dad up north, but forgot to arrange for someone to watch the cats; and by the time I had a victim volunteer, it was much too late. Maybe next week.

I've been working my way through the Dune trilogy, all six books. Dune, Dune Messiah, Children of Dune, God Emperor of Dune, Heretics of Dune, and Chapterhouse Dune. I actually had to go buy GEOD, because for some reason I didn't have a copy. Interestingly enough Herbert sort of invented the stealth aircraft, in the concept of "no-globes", which were spaceships that were undetectable by any machine. They were also invisible, for a while, to our hero's psychic senses - I can't say whether F-117's are invisible to the CIA's rumored 'remote viewers'. ( Yeah, I could tell you, but then I'd have to kill you :-P )

I can remember listening to an interview with Frank Herbert on the car radio, long ago. I was driving my old Datsun 710 through the California mountains and it kept overheating. I would pull over to the side of the road, sit there in the dark, and let it cool while I listened to the radio. It was a good interview I think - though I no longer recall much of it.


Thursday - yeah, you guessed it. work. Dinner was at the Red Lobster, where I had the Mahi-Mahi. Pretty good, though I'm not much of a fish person.


Wednesday - work.


Tuesday - work.


Monday - got up early, headed off to the specialist, and then headed home.


Sunday - Saturday I did some more yard sale-ing with friends. In the late morning we packed up some sandwiches and headed out to look at the California Poppies. Each year Lancaster has a "Poppy Festival", but the poppies bloom when they will, and they are blooming now. There is actually a "Poppy Preserve" but we elected to head to the hills overseeing Palmdale and the rest of the valley. It was gorgeous, the brilliant flowers against a blue sky with a couple of puffy clouds. There were also little purple flowers that stained one's clothes, and we sat around them and had a nice picnic.

In the afternoon I drove down to visit some friends near San Diego. I had a doctor visit early Monday morning in Orange, and didn't much feel like trying to drive the length of Los Angeles in the morning.... We ordered out a nice salad, and sat and watched the Oscar's. Not too bad - I don't watch them normally, and there are a lot of movies I haven't seen....

---
Picture of the Week

Photo Notes: The annual Poppy Festival in Lancaster isn't for a few weeks yet, but they have already started blooming. Silly flowers, don't they have a calendar? It was a beautiful warm and windless day, and the poppies were gorgeous in the hills just west of Palmdale.