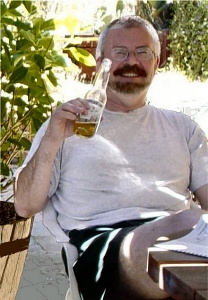 Travels and Images

WEEK 14 2003

Last Week- Sun- Mon- Tue- Wed- Thur- Fri- Sat- Next Week




---
---



Saturday - did some small stuff around the house. Put a new power supply in an old PC for a friends child - that was an easy fix, for a change.

Went 'down below' (LA) to look at Volvo 240's with a friend. Their old Volvo was totaled in a wreck lately - but everyone in it walked away without a scratch, so they want another. Makes sense to me. We drove several. Like anything else, the more you test them out, the better an idea of what they should be you will have. Sort of an idealized Ur-Volvo. We didn't buy any, but had fun, and lunch at at great Thai place. Yummmm.....

I was thinking about a new car this time last year. Assuming even a modest payment, and an increase in insurance over my old car, I've saved, conservatively, $500 a month for the last year. The grand total for not buying a car is therefore: Six Thousand Dollars. Sheesh.


Friday - boy, I need to keep this up to date. I assume I went to work... Interesting clouds on the way home. Continents of black mist, surrounded by glowing continental shelves of gold and silver.


Thursday - dinner was at Steer & Stein, a beer and steak place in Palmdale. I had the pepper steak, but passed on a beer because I planned to go the the movies later, to see "The Core". Dinner was good - we were a little surprised that some friends, one of whom is a vegetarian, showed.

The movie was about as expected. It would make a fine Sunday afternoon movie - lots of explosions, danger, heroism, and so on. The science is pretty bad, but hey, who's going to the movies for the science? I returned home late and slept like a log.

It was a long day, and I am sure tired tonight....


Wednesday - so far the voting has been exactly 50:50. One vote each way... It's raining a bit right now - earlier there were clouds and brilliant crepuscular rays as the sun set.

Work is going a bit better, I think. CFD takes a long time to debug.

Not much else going on. This weekend I am going too see Marcel Marceau at the LPAC with some friends - it should be fun. The radio ran an ad for this recently, and prominently mentioned the fact that he was a holocaust survivor and marched with Patton. I wonder if this was in response to the current anti-French sentiment?

The Llano del Rio utopians apparently were quite the partyers. This looks like a giant hot tub to me: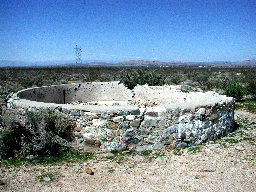 An old Jacuzzi in the desert?

Tuesday - going to work yesterday it was calm and clear. As a result of the rains we had a couple of weeks ago the normally dry Rosamond lakebed had a mirror like finish in the calm airs, with the mountains and snows reflected in them. Very nice. I wish I had a picture.

The Chimney's still remain at the old Llano del Rio lodge





Monday - I added the "weatherpixie" to the page at the top yesterday. It's free - sort of. If you like it, and use it on your page, then you can send the designer some money or something. Shareware, or honorware, perhaps... I'll see if I still like it in a week or two, then decide. Send in your vote... Since it picks up the same NOAA update as the text link, it is just as out-of-date. I'm not really sure why NOAA is always hours out of date - it's all automated weather stations now, and unless they've a 4.77Mhz PC-XT (possibly with dual floppies) being used as a server it's a bit puzzling.

I'm not sure, but I suspect the amount of clothing weatherpixie is wearing is related to the temperature...

We made a little progress today at work, which is something of a relief. We also went out to lunch with the gentleman who retired from NASA about this time last year.

I'm listening to a song on the radio, "Concrete Angel". It is probably Martina McBride, and if it is what I think it is about, it is pretty depressing. ( My compliments to Bertie Wooster for that part... tra la tra la tra la )


Me, and most of my neighbors...

Sunday - took it easy. Went to lunch with some friends, mowed the lawn, played with the cats...


---
Picture of the Week

Photo Notes: Out to the east of Palmdale, and just on the border of the foothills to the mountains there, is an old set of ruins. Early in the last century there was an experimental utopian community, Llano del Rio. It failed, as they all do, and now, eighty years or so later, it's just some ghostly ruins off the Highway 138.