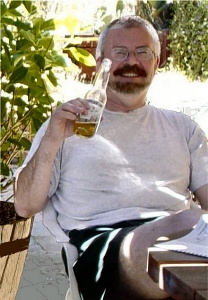 Travels and Images

WEEK 23 2003

Last Week- Sun- Mon- Tue- Wed- Thur- Fri- Sat- Next Week

A Year Ago, This Week





---



Saturday - tried to sleep in, but couldn't. So, edged and weed whacked the front yard, and mowed the back. The carpet cleaners showed up, and I had them do the whole house this year, rather than just the highly traveled downstairs. Then I helped pick up a dresser for a friend, and was repaid with lunch and an ice cream cone ( Rocky Road ). Then, as my back felt sort of tweaked, I went home and passed out on the couch.

Poor Phoebe - he was huddled under the bed in terror during the rug cleaner's visit. About six months ago he became a "scaredy-cat", after a youth of astonishing and even foolhardy bravery. Nothing that I did, as far as I know, just the course of nature it seems. He is OK now though.

When I walk out of a dimly lit place, into the sun, I sneeze. Three times. People don't seem to believe me, but here is a possible explanation for "Sun Sneezes". Found at the Mad Scientist Network, which doesn't really inspire confidence... (Via IMAO).


Friday - busy. Got Atlas installed and configured on the cluster - it took hours to run, and I'm not sure it's right. Also Scalapack is on Hobbiton, and actually ran, sometime around 9 p.m....


Thursday - busy again. Not into bed much before 11. Sigh. That was early at one time. Dinner at Fresco's, and good, although my friend Tim apparently got something Cajun by accident - and he is not a spicy foods fan.


Wednesday - busy. "Two Days notice" was the name of the movie with Sandra Bullock and...and...Hugh Grant. Had to look him up.


Tuesday - back at work. A guy got the BLACS library working and tested on the cluster while I was gone. So, a step in the right direction...

It was warm, but I suspect that there is a fire somewhere, as it is cooling off fast in the early evening. I did stop at the hardware store and pick up some pads for the swamp cooler, and a new water pump for it as well. Exciting stuff it is not, but it helps tremendously with the electric bill. Also mowed the front yard as darkness fell - it has a lot of volunteer weeds and needs some work. The back yard grass may be unsalvageable.

Astronomy Picture of the Day had this image the other day - am I the only one who thought immediately of the Star Trek episode "The Lights of Zetar?"

Supernova Remnant SNR 0103-72.6 (click to go to APOD page )





Monday - not much to say. Got up, packed, talked with my father a while and then hit the road home after lunch. There was a lot less traffic than Friday, but it was noticeably warmer. The green machine has a outside air thermometer, which was sort of fun:

Actually, it hit

102

at some point...the A/C has no problems with it though!

The average for the trip back was 20.7 mpg, a little better than the trip up.


Sunday - it was quite a bit warmer than we expected. We did drive up to the Carquinez Strait, where the suspension bridge is well on its way. Apart from a section on the south side the bridge deck looks to be mostly complete. We had a nice lunch with my brother, and then headed back home. In the evening we watched an amiable movie with Sandra Bullock and what's his name. I can't remember the title....


The bridge deck appears to be a hollow concrete box section. Rather aerodynamic, which is not necessarily a good thing in a suspension bridge deck.

There is a missing piece between the suspension portion and the southern approaches still.
---
Picture of the Week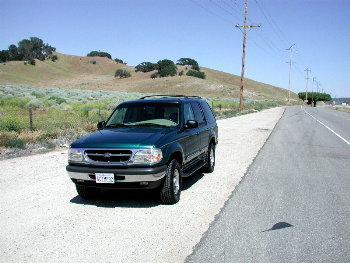 Photo Notes: OK. Here is my new SUV, parked on the side of the road, on the way up to see my Dad. And what a great pleasure it is to drive!