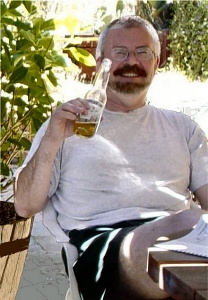 Travels and Images

WEEK 28 2003

Last Week- Sun- Mon- Tue- Wed- Thur- Fri- Sat- Next Week

A Year Ago, This Week





---



Saturday - in the news yesterday, on Yahoo!, was this headline: Tour de France, Malone to join Lakers. Well, it'd be something to see I thought, fast down the court, but a little crowded under the net. Then I noticed that it was a little dot, or bullet, not a comma, and these were hyperlink's to different articles. Too bad! My favorite memory of the Laker's is of The Laker Girls playing some midgets at half time, but this would have been a good runner up.

Speaking of the Tour de France, my brother has a story from when Comcast bought out AT&T's cable stuff. Lance Armstrong, winner of the bike race was spokesman at the time. The staff for the entire organization was invited to a huge barbecue held on the U.S.S. Hornet, an aircraft carrier, now used as a museum and as a location for big events. The Hornet is famed for having picked up the first men to land on the Moon, Armstrong, Aldrin, and Collins in 1969. The CEO hosting things apparently made a reference to that in a speech, and after it was over a friend of my brother turned to him, puzzled, and asked:

"Why was Lance Armstrong in the middle of the ocean?"

I assume that after he was done laughing, my brother, a huge fan of the moon landings, explained the difference between Neil Armstrong, and Lance Armstrong.

As long as we are dealing with sports, a brief history (via Tim Blair)of the war between mascot's and players is here, at Sports Illustrated, online. Hysterical. My favorite:

November 1996 -- Wisconsin mascot Bucky the Badger is arrested and issued a $141.50 ticket for crowd surfing in the student section. When asked by the booking officer to spell his name, the student begins by saying, "Badger. B-A-D-G ... "


Friday - "maybe I'd better update the web page" he sez.... Sorry about that. I'll back fill here, and add some content postdated, though it's a lot of work......

It was hot today -

From the weather page at NOAA:


Maximum and Minimum Temperatures

Maximum
Temperature
F (C)
Minimum
Temperature
F (C)


108.0 (42.2)
98.1 (36.7)
In the 6 hours preceding Jul 11, 2003 - 07:56 PM EDT / 2003.07.11 2356 UTC
109.0 (42.8)
66.0 (18.9)
In the 24 hours preceding Jul 11, 2003 - 03:56 AM EDT / 2003.07.11 0756 UTC

---



Thursday 10 July 2003

Thursday - work.

Here is my neighborhood, from orbit, via GEOURL; you should try it yourself!


It was apparently taken on a Monday morning, as there are no cars on the streets.


Wednesday - work.

Tuesday - back to work again.


Monday - back on the road again. I listened to a Louis L'amour tape on the way back - the miles pass a lot quicker that way.

We took some pics of the Cayucos parade on the fourth, now up to 79 entries, with a friends camera, and I'll post some if they come out cute. Probably. Can the parade stand success? It used to take about 45 minutes, with all the floats and entries going by twice, now it takes three hours with them going by once. But they are mostly as hokey as always, so perhaps it'll be OK.


Sunday - my brother and I went down to Oakland to see if Anaheim would sweep our Oakland Athletics'. The weather was just about perfect, and the A's won, HURRAH!

My father showed me some old family pictures. And I mean OLD! They are tintypes - one is of a relative in his Civil War uniform. It is mis-titled "Revolutionary War" - but then again, I have heard that war referred to as "The Second Revolution" so maybe the annotated was a southern sympathizer. Looks like a uniform from the north though.

Dad said he'd try scanning them in, if sends them to me, I might post a couple.


---
Picture of the Week

Photo Notes: Here is downtown Cayucos, California, as seen from its pier, just before the Fourth of July. Still pretty quiet...