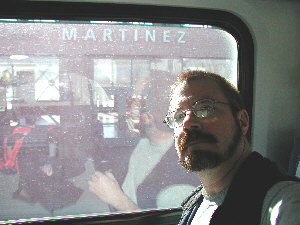 Travels and Images

Last Week < Sun- Mon- Tue- Wed- Thur- Fri- Sat > Next Week
---

Sunday 28 July 2002

Sunday. I helped a friend clear an office. We started fairly early, but it still took three pickup truck loads and three van loads to mostly clear the place out. Fortunately we had it done by the time it really started to get hot, and there were some high clouds as well. Temporarily a lot of it is being stored in my garage...

After that we had lunch and a little dip in the pool to cool off.

The new "band" down there street seems to have taken Sunday off, thank god. Of course, there is a Sunday noise curfew and I could call the sheriff if necessary. They've been playing a week now, almost every day (and evening) and I was hoping that their immediate neighbors would take care of it.


Monday - a little tired. My web stats say that no-one looked at this page. Hmmm. I know that I did, so I'm guessing there is a problem with the analysis. Work as normal. The "band" is playing again. I guess I'll go talk to them about basic courtesies to their neighbors and all that stodgy stuff.


Tuesday 30 July 2002

Tuesday - One of the neighbor's spoke to the "band" and they quieted down. We will have to see if it lasts.

It's been hot and smoky the last few days. I'm not sure if the smoke is from the fires down south in Julian, or up north in the Sequoia National forest.

I've been working late, so there isn't a lot to post about, or much time to do it.


Wednesday - worked late. Our summer student Byron's last day is tomorrow, so he gave his exit presentation. He was clear and gave a good presentation - it's amazing how fast these students grow up over a summer or two. He may be back in a while when he graduates.


Thursday. Took Byron to dinner with us. A couple of his friends showed up as well (these summer students run in gangs) and we all enjoyed the food at the Olive Garden. I had a Sam Adams, the only thing on tap besides Bud and Miller. Then it was a walk - the pasta just wanted me to sit, but I felt better afterwards; and then a chapter of Lemoney Snicket's The Horrid Hospital.


Friday - working on debugging an allocable array version of an old fixed dimensioned code. There is a little problem in that it isn't commented profusely, and what comments there are, are rather bad. Like, "This routine generates the binary tree" followed by five hundred lines of spaghetti FORTRAN written by someone who clearly learned to program in C . Yes, you can tell.... The main project items are moving along, which is why I have time for this. The phone just rang off the hook this morning, which left an abbreviated afternoon for this, since I had to leave early for PT.

The therapist finally mentioned it, "more surgery, maybe". He doesn't pretend to be a doctor - I see one next week - and I sure do hope not - this is already taking more time and money than I had assumed, and I hate to extend it. Still, there is the rest of my life to consider. Bah.

I found another picture of my father's ship, the Bayfield , in Normandy, while playing around with the Google search engine. Kind of neat. You do a search, and there is a tab labeled "IMAGES", and if you click on it you can see pictures that are labeled with your search text, or that reside in html pages containing your search text.

Saturday - not a lot of import. I ran some errands, fell asleep in front of the TV...

Oh yes, I found a MacIntosh Performa 6400 at a yard sale for $50, complete with 17" monitor and inkjet printer, and all the original manuals and software. My sister is a technical writer, and can use this as another weapon in her writing tools arsenal! The next yard sale had an old Apple Personal Laserwriter for $5 - I haven't tried it out, but if it works the savings in toner over an inkjet should be substantial. All thanks to S.
---
July's Links
OpenGL
, 2 July, The graphics standard
SEC
, the Securities Exchange Commission
President
, of the United States of America
FBI
, Federal Bureau of Investigation
CIA
, yes,
that
Central Intelligence Agency
Bath
, 3 July, The town in England founded by the Romans
Carnivore
, the FBI's spy software
Electronic Privacy Information Center.
, your rights on line
U.S.S. George Washington
, 4 July, first ballistic missile submarine
Spinal Tap
, 6 July, the funny meter goes to eleven
http://home.att.net/~smab, Mill's College Sacramento Alumnae
Local Fox Field weather page at NOAA
, is it hot out?
heat island effect
, why the official temperature may not be 'correct'
Lancaster Pet Clinic
, 10 July, one of Phoebe's least favorite places
James Garner
, 11 July, the 'scrounger'
The Great Escape
, best prison camp movie ever
A Bicycle Ride across the USA
, 12 July, what an adventure!
FDISK /MBR
, 13 July, fixing hard disks
FIPS
, more Linux hard disk stuff
slashdot
, "news for nerds"
M.S. Windows
, the evil empire
Linux
, the rebel alliance
Benicia
, 15 July, once the capital of California
Vallejo
, hmm.
Still Waiting for Greenhouse
, 16 July, Pseudo Science debunking
The Surface Record
, it
is
hot out...
The Moving Wall
, 18 July, Vietnam memorial
Lancaster Jethawks
, 19 July, "play ball!"
KCET
, 22 July, L.A.'s public TV station
The Battle between the Hood and the Bismarck
, a documentary on public TV
Bismarck/Hood battle pictures,
, 26 July, taken from the German ships
---
Photo Notes: This is a recent sunset, here in Lancaster. It's quite nice to see the clouds here in summer, usually it is quite hot with a cloudless clear blue sky!