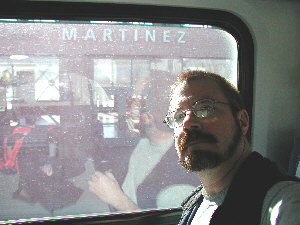 Travels and Images

Last Week < Sun- Mon- Tue- Wed- Thur- Fri- Sat > Next Week
---

Sunday 4 August 2002

Sunday - I redid mowing the lawn. I just did it, but most likely I won't be home until late next weekend, and this takes care of that problem. Though I did not get around to poisoning the weeds again...dandelions, bah!

My bother Bob and I are going to Arizona to visit the Meteor Crater next week. This is the best preserved meteor crater in the world, sited up on the high plateau near Flagstaff . We haven't seen it and are quite enthused about seeing such a beast. We've seen the pictures, but if it is like the Grand Canyon they will almost certainly fail to do justice to the size of the hole.

Monday - A normal day's work, followed by a trip to the hand therapist. Measurements for a visit to the surgeon tomorrow show I've lost some functionality in that hand. If he recommends surgery I suppose I shall have to get a 2nd opinion somewhere. I'll have to check my insurance benefits booklet.


I need to recharge the batteries for my Olympus C-3040z - I have a couple of sets of NiMH that do great service - if you are still limping along with non rechargeable Duracells or Energizers I highly recommend the NiMH rechargeables. For my camera they actually last longer, take more pictures, and once recharged can be used again. It's having your cake and getting it too. The 1600mAH batteries that Radio Shack sells are actually pretty good, coming in third in some ratings.


Tuesday - work, and then a visit to the doctor. He said, basically, "uh-oh", and scheduled a visit with the MRI people. Possibly it's scar tissue or adhesions, or possibly the tendon has ruptured, and is interfering with the proper functioning of the other fingers. Either way, probably more surgery.

Bob arrived at the house only a few minutes before I got home, having started just a bit late from his home. So we plan to head out early tomorrow, along the I-40, and try to get to Flagstaff by evening. It's all high speed interstate, except for some two lane roads out near Kramer's Junction and Barstow , here in California.


Wednesday - we got a late start, but that's OK, no hurry. The I-40 was picked up on the other side of Barstow and turned out to be a nice high speed interstate as promised. Bob has his new Ford Ranger and we drove that. We first went north on the 14 freeway to Mojave and past the airport there, with all the rows of airliners awaiting refurbishment, and then east past Boron and the huge piles of mine tailings from the borax mine to Barstow on the 58. At Barstow we graduated to a true interstate, the I-40, which replaces the old Route 66 of yore in most places.

Airliners at Mojave Airport, from Highway 58


It's always fun, heading out on a new trip. The world seems new, full of chance and opportunity. You notice the clouds in the sky, the color of the grass, or cactus, the hum of the tires. A change of pace, a change of habit that can, possibly, make you a better person.

Unfortunately, between Barstow and Needles the road has been reduced to two lanes for road repairs, for 25 miles! No doubt the idea is to save money, by renting the pavers and graders and other heavy roadmaking equipment just once to do the entire stretch, but it's impact on traffic is horrific. I think I'd be willing to pay a bit more for manageable chunks of repair work; say an upper limit of 5 miles?

At the border between California and Arizona is the Colorado River. It's a vivd blue, with a great number of boats blasting along in it, looking like they are having fun.

Boaters on the Colorado between Arizona and California


Some engineer has also had fun there, building a couple of bridges over the river for some piping. One is an steel arched bridge, similar in concept but not so grand as the Sidney Harbor Bridge . The other bridge, right next to it, is a catenary cable bridge, similar in concept to the Golden Gate Bridge .

Bridges over the river...


Anyway, once out of state the speed limit increased to 75MPH and traffic really just moved along. In California the semi-trucks are limited by law to 55MPH, but not in Arizona. I though it would be terrible, but it actually seemed to help the flow of traffic.
Arizona is a pretty state - even the desert can be interesting! We passed through Needles , Bullhead City , Kingman , Seligman , and finally came to Flagstaff and stayed the night at a Days Inn .

We thought about heading south to visit the London Bridge in Lake Havasu , but decided that we really need to get to Flagstaff in a single day's drive. It was a nice drive!


Thursday - we woke up in Flagstaff, Arizona . Flagstaff is a pretty city. It's not desert, it actually sits up on a high plain, surrounded by volcanic cinder cones and pine trees. As you approach from the west, along the I-40, you see the landscape change from desert and scrub brush near Needles, to grasses and an occasional tree at Seligman, to the pines. Because of the height, probably, it isn't as hot as the desert around it.

Between Needles and Kingman we also passed our first dome. It looks like a spaceship, sitting alongside the freeway, with other, smaller domes and flying saucers on posts about it....

A Mysterious UFO, out in the desert...




We had planned to get up early and be at the meteor crater at it's opening, 6 a.m., but didn't make it. No bit deal, we were out of town by 7:30 and there by the crater road turn off at 8:30. At the turnoff, well marked, there was a geodesic dome with a store and Mobil gas, and a RV park. There were a number of these domes in Arizona for some reason.

Another UFO sighting...
Well it was a Mobil Station, and it looked mobile enough!
But, proceeding on, we then traveled about six miles down the road, saw the crater rim in the distance, and finally arrived. it's a very distinctive crater profile from the high plains. Bob said that it was the most unusual thing about the place, that he had seen so many images from the rim and from the air, but none from outside at ground level. So I'm going to make that the "Picture of the Week" - next week.
The Barringer Crater is privately owned. Barringer bought it in the late 1800's, and spent most of his life and fortune proving it was really a meteor crater. And searching for a huge ball of valuable nickel-iron. It wasn't there - the energy of impact was enough to fragment and vaporize the meteor, His descendants were so sick of it all that they tried to give it back to the gov't as a park. The gov't refused, claiming it was just another volcanic crater. There is some logic to their refusal - the crater is
surrounded
by dozens of cinder cones and craters - what are the odds that there will be an impact crater right in the middle of those, many of which were
already
national parks? The USGS claimed it was just a big steam vent...
Eventually the Barringer family, along with some local ranchers, formed a corporation for tourism, and they own and operate the site to this day. They do an
excellent job
- it's as good as any state or national park I've ever been to, and the food was better!
And so, without further ado, here is a shot from the crater rim, pieced together from four separate shots. ( The original is about 5MB, I'll have to figure some way to post it....)
A panoramic view of Barringer Meteor Crater, Arizona
You can't really get a sense of the size of this object from a picture. It's sort of like the Grand Canyon in that respect. It's not as big as the latter, but it's big enough that you keep losing your sense of scale. The hole is about six hundred feet deep I think, though it'd be deeper if a lot of it is the deposits blown up into the sky had not fallen back in.
You can stand inside, in air conditioned comfort, or walk out onto any of several viewing areas/decks/projections. There are a number of little telescopes that allow you to view various things around the crater. One telescope focuses on a little silhouette of an astronaut ( many of the Apollo astronauts to the moon trained here )down at the center of the crater. It's life size, and basically invisible without the telescope. Scale again.
Astronaut and moon sized flag at crater's center, photo taken through telescop
e
The crater is a bit under a mile across, and so about three miles around. You can take a guided tour for about a half mile out to the site of Barringer's old cabin, now mostly fallen apart. Old time visitors will remember it as the old Gift Shop.We did and it was a lot of fun. Our guide was fun, and the we the usual tourists ( Families from Indiana, Empty Nesters in their RV's, Newlyweds from Jersey trying to keep their hands off each other, and so on...) all enjoyed Eduardo's little talk. We were not supposed to keep any souvenir bits, but my brother found a small pebble in his shoe when we got back to the car - much to our later consternation.
Walking out along the crater's rim
After spending several hours viewing the crater, we drove east, to
Winslow, Arizona
, for lunch. Yes,
that
Winslow of the Eagle's song. We even drove past the corner the song refers to - 2nd and Kinsley. There's an official picture at the link above. Sorry, my camera wasn't ready... We thought about stopping, but there were a lot of one way streets, and we just ended up at the local Arby's near the interstate. Oh well.
East of Winslow is The
Petrified Forest National Park
, rather interesting. Mostly it is overlooks and vista's, and lots and lots of warnings about removing anything from the park. That's where Bob's pebble from the meteor crater comes in -
what if they'd searched us and found it?
You see, when you enter, they ask you - "Do you have any petrified wood or rock on your person or in the vehicle?" My brother, sharing the family trait of being a smart*** at inappropriate times, immediately replied
"Not yet"
. He claims not to even remember saying it. Remember the pebble from the Meteor Crater? I was sure they were going to radio ahead to the exit and have us strip searched, find
that
, and end up in the park brig...
The 'Agate Bridge', a petrified log


One interesting stop was the 'Agate Bridge', which is a petrified log, spanning a small gully. The 'bridge' has been known for a century or so, and at some time in the past a couple of bridge abutments and a reinforcement beam were added to keep it from collapsing. The park service is in something of a quandary - does it preserve things in a certain condition, or let them change, evolve, even if that means disintegration of a tourist attraction? They seem to have come down on the side of 'let it happen' for the most part. They aren't undoing past efforts, but gently deride them... Except for people - we are not considered an 'natural process' and so souvenirs are verboten. But the tourists of the last 135 years have mostly cleared out the good stuff anyway, so I guess it doesn't matter.

After this we went back to the meteor crater, and then back to Flagstaff for dinner and a motel. The Hampton Inn was better than the Days Inn.


Friday - we toured the Sunset Crater park, and the Wupatki park. Very interesting. Then we decided to drive back to Lancaster and skip the Grand Canyon. We were there 20 years ago, or so, and decided it probably hadn't changed a lot. On the way back we stopped in Lake Havasu for a beer and a gander at the London Bridge, and then on our way again. We also stopped outside of Needles for a couple of hours to stargaze - I saw three meteors - and then got back into Lancaster in the early AM hours.

Saturday - got up late, had lunch, and Bob headed up north. I was pretty dead for the rest of the day...

---
Photo Notes: Here I am, zooming through the countryside on my hog... OK, I'm stopped on the side of the road, riding an old Honda 550, but it's the delusion that counts, after all.