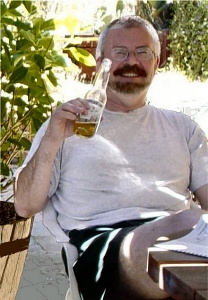 Travels and Images

WEEK 32 2003

Last Week- Sun- Mon- Tue- Wed- Thur- Fri- Sat- Next Week

A Year Ago, This Week





---



Saturday - mowed the lawns, ( in hundred degree plus weather ) and took the Explorer in for an oil change. Then stopped and talked for a while with an old neighbor of mine, that I hadn't seen in a year or two. Then, back to the homestead, where I attempted to swap power supplies on an old AT style box without any luck. Oh well.

So, 130 people have entered the California race. I'm still going to vote for Arnold, myself. Mark Steyn on Schwarzenegger's qualifications, (via Transterrestrial Musings). In any case, what with Gary Coleman and Angelyne also running it'll surely be the most entertaining race in quite a while.

This shot of the dust storm was apparently taken by a plane over California City, just to the north of Edwards. Look at the scale of things - it was literally pitch black under that cloud, for several minutes.



Friday - I rinsed off the car with a hose this morning - not really a wash, but I couldn't stand the muck any longer. Which was a break in my morning routine, so I naturally forgot about hand therapy until about half way to work. Then it was: "Oh well, next week for that..."

The annoying thing about Thursday night was that it was finally clear, after a week of broken clouds - and that a fire had created a haze so thick that at 10:00 local time Mars was invisible. It would have risen out of the smoke later, probably, but I was too tired to stay up late. Perhaps tonight, as it looks clear, and smokeless.

One idea I have been kicking around is that of 'Planet Cam'. Last time I looked there was no dedicated web camera looking through a telescope at Mars, or any other planet. It would be cool if there was - in fact, a network of such camera's, around the globe, and it could serve as an interesting educational tool for school kids. Obviously students attend school mainly in the local daytime, so the best views will be from telescopes some distance around the planet from them.

Mars, Venus, Jupiter, the Moon, the Sun (may be one of those already I think), in fact all of the planets that are visible could be viewed at various resolutions and wavelengths. A grandiose idea, but doable, I think.

Some pictures of last week's dust storm have been circulating at Dryden, so I thought I'd post them. I've been commenting on it excessively on these pages perhaps, but these will give an idea of why! (If I knew the photographer, I'd get permission and credit them, but so far I haven't found the originator.)



Thursday 7 August 2003

Thursday - Mars is amazingly bright in the eastern sky, late evenings. The reddish tint is clearly visible.

Wednesday - read a lot of system admin stuff today, not much else going on. Didn't get home in time to clean the car of the muddy goop from last week, again. So it goes sometimes. Beautiful sunset though:


Tuesday - off to work, and then off to the surgeon's. He says that the specialist has recommended and "lumbrical release" - which is doctor speak for "go in and cut things up". Hmmm.

Mars is amazingly bright in the low eastern sky right now. The nearest opposition since 58,000 B.C.. I'll have to ask my Dad about that I guess :-)


Monday - on the road again, back to Lancaster. Got three and a half tapes into a Louis L'amour book on tape by the time I was home. Half a tape to go. Our intrepid Sackett is outnumbered, trapped by outlaws, desert to one side, mountain cliffs to the other, looking out for the old trapper and wounded man. Will he make it?

Sunday - the weather was nice, not too hot or humid, and we sat out in the back for a while, listening to the ball game.


---
Picture of the Week

Photo Notes: Here is a shot of Arch Rock at the end of Anacapa Island, just to the west of the Santa Barbara Channel off Southern California. And yes, my friend Dave and I did kayak through! Him first, so that...ahhh...I could rescue him if need be. Yeah, that's it, so I could rescue him...