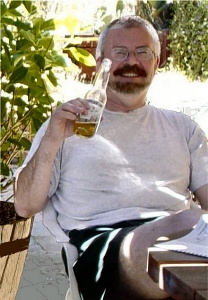 Travels and Images

WEEK 44 2003

Last Week- Sun- Mon- Tue- Wed- Thur- Fri- Sat- Next Week

A Year Ago, This Week





---



Saturday - got up early, had the oil changed, the tires rotated, and the vehicle washed. I normally wash my cars myself ( on rare occasions, admittedly ) but it was 47F out!

Then I went over and helped

R

transport an entertainment center big enough for his new 36" tv to his house. You can just call me "

the friend with a truck

."


Friday - Halloween. And it was about the worst weather I can remember for it in Lancaster: cold, windy, a bit rainy. I went over to my friend -

R

always goes all out and he had more stuff this year! Skeleton(s), coffin(s), gravestone(s), fog machine(s), pumpkin(s), bat(s), snake(s), blacklight(s), - well, you get the idea. Picture on Sunday! He had about 50-100 people come by, a remarkable amount of traffic when the weather is considered!

I also visited with my brother, who had a very impressive display of his own - in a year or two he may rival

R

!! He just needs a bigger canvas (yard) on which to paint...

The simulation at work proceeds. We'll just have to let it run over the weekend.


Thursday 30 October 2003

Thursday - back at work. We finally have some sim results, and they may be OK. More time needed. Looking at the parallel stuff again, I need to reorganize things. Hmmm.


Wednesday - not feeling well, so I took the day off.


Tuesday - the Southern California fires continue. None are near me - though it is partially the winds from the higher cooler desert here that are fanning the flames below. In the evening the fires die down a bit, then rage again during the day. I took a picture of smoke from a fire off in the distance (forty or fifty miles, probably) this morning - it may be the Simi Valley or Woodlands Hill blaze. By sundown the smoke had spread all along the hills that are clear in the picture, and the Antelope Valley was a bit hazy.

My friends parent's had to be evacuated from their Scripps Ranch home the other day, but it survived and they are home again. The blaze came within a mile or so of their house. Those dry eucalyptus trees are dangerous to have around!


Smoke cloud forming to the south and east of the Antelope Valley

Monday - back at work. Daylight savings time has ended so it is now dark when I get home - no painting after work


Sunday - worked on the house some more. I did much of the eaves in the front of the house, in green, and some of the tan siding as well.

The 49er's were not on tv this afternoon (they lost in OT anyway), instead there was a lot of coverage of the fires all about the state. It's quite an outbreak - probably the worst in ten years or so. A friend of mine has relatives down San Diego way that had to be evacuated - over by Scripps Ranch. Hopefully their house will be OK as it's not too close to all that dry brush.

Another friend who lives down there said that it's been 172 days without rain. Not a good time to fire off a flare because you are lost, which reportedly is how one of the fires began.

Around the house I am finally running out of stuff - garbage bags, soda, etc. The supermarket strike is beginning to take it's toll.


---
Picture of the Week

Photo Notes: I don't feel up to searching the archives for a photo tonight, so here is a shot of my painting cap. If I had not been wearing it lately, my hair would be that greenish color now.