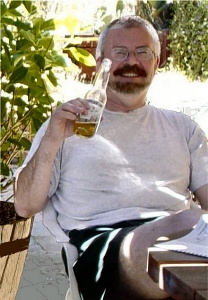 Travels and Images

WEEK 4 2003

Last Week- Sun- Mon- Tue- Wed- Thur- Fri- Sat- Next Week



---



Saturday - heck, see friday.


Friday - tired, still a bit under the weather.

Thursday - worked late, went to dinner, listened to story, and am going to bed now. I should call my friend D, but am just beat.

Wednesday - worked late, got home fed the cats, and went to bed.

Tuesday - work. Not a lot of interest going on there.... The cold is mostly gone, but seems to be moving down to my chest, which is bad. My friend Tim emailed to say he was diagnosed with ...um...bronchitis or pleurisy, I can't recall which. If so, I may need to  go visit a doctor of some sort. It may be that I can't go north for the Super Bowl bash at my dad's. Bah.

This post, by the way, is using Composer in Netscape 7.0. We'll see what it does...


Monday - still more cleaning, partially because cleaning the library (spare room) entailed moving everything into another room. Which works, because as you carry stuff about you grow less and less fond of it....sort of like Frodo and his precious ring. Which reminds me of George Carlin's skit. Or of that scene in "Metzger's Dog" - I laughed till I cried for some reason.

Went and looked at some trees - bare root. My backyard is bare right now, just grass, and could use some spritzing up. As it was a government holiday, Martin Luther King Day, I also had the day off.

I bought FOTR on DVD, the extended edition. I was hoping someone would come through for Christmas, but no luck. I also got a copy of Lomborg's book, "The Skeptical Environmentalist", which has raised quite a furor. If the reviews are correct, he also feels that there is a lot of humbug and scam going on. Also Robert Jordan's latest, book ten, I can't recall the title. I suspect that will be the last for me - my attention span is not what it once was.


Sunday - I decided to take the morning and clean up the library room. It took hours, but now looks much better. In the afternoon some friends and I went to an Indian restaurant for lunch, and then spent the afternoon watching the Oakland Raiders dominate the field. Very satisfactory.

As I was saying the other day, this constant changing and mangling of web pages is getting on my nerves. I think I will go back to a simple ascii editor, gvim, rather than deal with Netscape Composer or Frontpage any longer. Today I discovered that all the image links had been deleted from the page. I have no idea why or how... Actually gvim is quite modern, and color codes keywords and tags 'on the fly' - not bad, not bad at all...

Also, what I meant to say was that I'll put Linux back on the other laptop, not Win2k.
---
Picture of the Week
 
Photo Notes:This is cute - a small girl playing with the ribbons in front of a haberdashers.