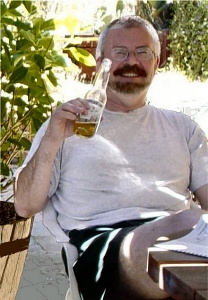 Travels and Images

WEEK 36 2003

Last Week- Sun- Mon- Tue- Wed- Thur- Fri- Sat- Next Week

A Year Ago, This Week





---



Saturday - busy getting ready for my friend's reception. It all went well, more next week.


Friday - the DSL is SNAPPY tonight, which is nice. In general Verizon has had excellent service, almost without problems from the very beginning. More or less what you would expect from the phone company.

Someone from safety brought in a video of the Helios mishap. I can't say much about it here, but it is a terrible thing to see an aircraft fall out of the sky, even an unmanned one. The perfect blue's of the sea and sky, with Hawaii in the background as it spins down, shedding debris, creates a surreal look to the whole thing. A film director, seeing this, would send it back to the CGI group with a note: "

Hey guys, this is 2003, a little more lifelike, eh?

" And of course, it brings back those dreadful memories of Columbia, tearing itself apart in the Texas sky.

Spent a few hours updating virus programs and such on the machines at work. Sysadmin stuff, that I asked for. Oh well. Plotted up some data, started some more runs for Monday.

Someone left a mocking Dilbert cartoon about systems administrators on my keyboard at work - guess I was a little too boastful about passing those tests... I still need to take the Win2k test.


Thursday 4 September 2003

Thursday - still slow connecting. Can't get to my Yahoo mail and my other mail isn't sending out for some reason. So it goes I guess. Hmmm. Now I'm getting "Host Not Found" for everything again. Oh well, time for bed anyway.


Wednesday - couldn't get on line - electrical storms to the north and east might have had something to do with that.


Tuesday - I knew it! Gray Davis is an alien.


Monday - more painting. I'm tired of painting.

My father and siblings were having a nice party, and were kind enough to make a phone call and

tell

me so. I could

hear

the steaks sizzling in the background.... Personally I had a "Cup-a-soup".

And

a peanut butter sandwich.


Sunday - more painting. Unfortunately today's painting took place over, in, and through the (somewhat overgrown) front flower garden. The rose thorns took their toll, alas.

And of course the wasp sting to the side of the head, from yesterday, was still itching. Ow. I had power washed the eaves, so there were no nests there, but the side fence had a little clump, and they took exception to my banging the ladder on the boards.

It was warm, and the paint was becoming unpleasantly runny, so about two I packed it in, painting wise, quickly mowed the front lawn, and then decided to check out a movie: "The League of Extraordinary Gentlemen". It was actually pretty good, for a two dollar Sunday matinee.

If you looked at "A Year Ago This Week: - ( and you

did

, didn't you? ) you probably noticed that I was painting this time last year as well. It was up at my Dad's, and it still looks pretty good. There is also a war story, and that reminds me of one he told me just the other day.

Dad was coxswain for the lead barge when the U.S.S. Bayfield would land troops for island assaults. His lieutenant,

K

, was a salty old character who had been a bosun's mate before the war, and whom he hated. The lieutenants job was to direct the other 47 boats in preparation for the landing, and to do it he would stand up in my Dad's boats, peering at his charges through binoculars. Ever so slowly my father would add power to the boats engine, until the boat hit that magical moment when it was slamming into the swells at just the right frequency to splash and annoy

K

. "Goddammit, slow down!" he'd yell - and my father always would. Then, he'd slowly start adding power again...


---
Picture of the Week

Photo Notes: You can come upon the oddest things driving the Interstate. This was next to a gas station, somewhere along the I-5. "

DO NOT PLAY ON OR AROUND DINOSAUR

" - good advice for anyone, eh?