Travels and Images
| | | | | | |
| --- | --- | --- | --- | --- | --- |
| First Post, 17 March 2002 | Five Years Ago, This Week, 2002 | Four Years Ago, This Week, 2003 | Three Years Ago, this week, 2004 | Two Years Ago, This Week, 2005 | A Year Ago, This Week, 2006 |
---



Saturday - down to Oxnard, after a pretty full day of working in the yard. I'd hoped to leave yesterday, but not this time.


Friday - What really goes on when you leave your computer alone at night. {via The Reference Frame]


---
Catalina is burning: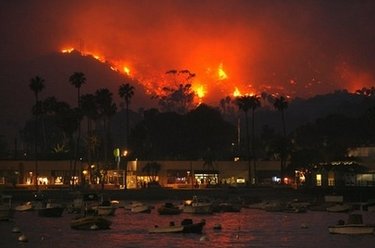 These coastal islands of Southern California have lots of flamable scrub. Hopefully I'll be sailing out by Anacapa Island this weekend, and hopefully it'll

not

be on fire.


---

I loaned out my copy of Undaunted Courage today. We'd been talking at the lunch table about ways to beat the commute and I mentioned that I'd just finished it. One of my co-workers has it in hardcopy, but thought he'd rather listen to it on tape, so...

I may still have the copy of A Beautiful Mind that he loaned me five or six years ago, now that I think of it. Hmmm.


---

I heard a Marshal Tucker song on the TV in the other room, and went to look. I missed most of it, but apparently it was for some sort of care packages, sponsered by the USPS? I forgot that I had TIVO, and it's long gone now.

T

hursday - an amusing link, forwarded by my brother. "

...like all things Spanish, it is dangerous

." Heh.


---

I didn't mention that

Book #33

Building Harlequin's Moon was a singularity novel with a different outlook than that of

Book #31

Rainbows End. The crew of the

John Glenn

has fled the singularity occurring on Earth (the fate of her sister ships

Lewis & Clark

and

Leif Ericcson

is unknown), and ended up at an unexpected destination. The AI's of Earth aren't the friendly quirky Rabbit of Rainbow's End, but dark malicious entities-

"

...I still remember how the AI's ran things, how people died right and left. Or got locked up. My sister disappeared and never came back. They took her for 'attempting to destroy an intelligence'. I have no idea what she did...

"

Phil, over at The Speculist, keeps track of the Singularity for us. He's an optimist, but I wonder.

Vinge mentioned that for novelists the Singularity is a black hole. They can write about the run-up to it, they can write about a few confused stragglers in the aftermath, but the event itself is, almost by definition, impossible to describe.


Wednesday - back at it.

I finished, finally,

Book #34

, Undaunted Courage* by Stephen Ambrose. It is a biography of Meriwether Lewis. It is also a fairly detailed account of the Lewis & Clark expedition. Very interesting. Recommended. But if you get the audio, like I did, you'll want a book to follow them along the rivers and trails.

I ran across some photos of the Greensburg Tornado aftermath. Incredible. It looks like Hiroshima after the bomb (except for minimal fire damage).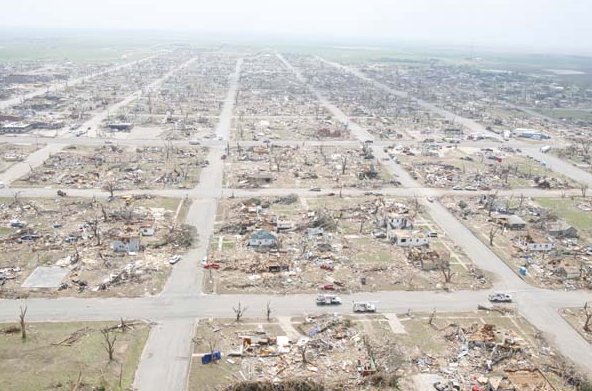 One picture. The

whole town

looks like this.

Tuesday - pulled a muscle in my back, stayed home from work. Watched a lot of Stargate SG-1.

Finished

Book #33

: Building Harlequin's Moon, by Larry Niven and Brenda Cooper. It's well written, well thought out and plotted - and kind of boring. My brother happened to be reading it as well and had exactly the same reaction. Somehow the sense of

fun and humor

Niven used to exude is gone. He's been writing SciFi for 40+ years now I suppose, so maybe it's to be expected.

I found this stop motion telekinetic battle on line at YouTube. You might think, "What's the big deal?", but when you consider that all the movement scenes outside were done with top motion - for example: assume a position, jump in the air, take one picture, move six inches, and repeat and repeat and repeat to get the movement. Well, amazing.

I once did a stop motion of a small glass ornament moving. It was a lot of work.

Monday - ditto.

Jay Manifold has some links to the Greensburg Tornado.


Sunday - keeping busy.