Travels and Images
| | | | | | |
| --- | --- | --- | --- | --- | --- |
| First Post, 17 March 2002 | Five Years Ago, This Week, 2002 | Four Years Ago, This Week, 2003 | Three Years Ago, this week, 2004 | Two Years Ago, This Week, 2005 | A Year Ago, This Week, 2006 |
---



Saturday - a lazy day. I did get the oil changed in the Explorer, and the tires rotated. I also had a bit of a scare when I found that there was only 10psi of air in the right front tire. I had Big O Tires check it out, but they found nothing nothing nothing. Hmmm. I'll have to keep an eye on it.


---

My fish have gotten stupider. ( One was always kind of stupid - I inherited these fish from a friend, and before I got them my friends boyfriend threw him against a wall during an argument. He's been a bit off since. In particular when agitated he repeatedly slams himself into the side of the tank. So I try not to agitate it.) Anyway. They used to rise to the surface to feed. No longer. Now they wait, and as the food pellets absorb water the pellets sink, and then they eat them off the gravel. Perhaps this is normal goldfish behavior? I've little stone bridges and things down at the bottom of the tank, and they repeatedly knock them over in their quest for food in the crevices between the gravel.

If they are

really

hungry and I drop the food directly on their heads they will eat a few from the surface. But it's not the feeding frenzy it used to be. It does occur to me (as I write this) that they are also quite a bit bigger and older - maybe that has something to do with it.


---

I hung out with my brother for most of the day. We were both tired, but it was nice to spend some time together, talking, visiting the local Barnes & Noble. He has rescued me

twice

in the last couple of weeks from various car troubles, so I bought him a cup of coffee.


---



The actual Sacajawea quote, from the Lewis journal:





"January 6th. The Indian woman was very impatient to be permitted to go, and was therefore indulged. She observed that she had traveled a long way with us to see the great waters, and now that a monstrous fish was also to be seen, she thought it very hard she could not be permitted to see either (she had never yet been to the Ocean)."



Lewis had better spelling than Clark, generally.


Friday - dinner was tortellini's covered in pesto. It was basil pesto, with sun dried tomatoes, and looked terrible (like something the cat might throw up) but tasted great. I

t all evens out

.


---

My visiting professors' have badges now, so they can get on base without being hassled. My badge, on the other hand, expired, and I was hassled for an hour at the gate before they let me in.

It all evens out.




---

Gain a submarine, lose a submarine.

It all evens ou

t. And it you ever want to visit a historic ship, go here for a big list. [via Newmark's Door] California has more ships than Britain, which doesn't seem quite right. There are a lot of states that have no ships at all - I've often thought that if you could get some ships to Las Vegas they'd make a pretty decent family tourist attraction.

How would you

get

them to the middle of the desert you ask? Hah! I hoped you'd ask. A Super Walrus could carry it ( Super because 1000 tons really isn't enough carry capacity). And, now that I think of it, it would be quite a draw in itself. Or a Aeroscraft, it would be totally awesome.


---

Friday Night Cat Blogging - it's a

Lifestyle

!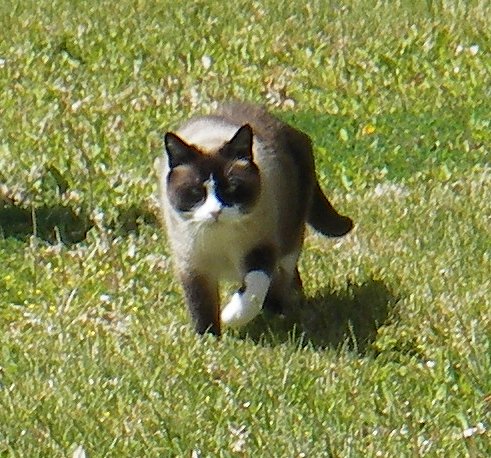 Riley

T

hursday - working late.

Dad and I watched Night At the Museum the other night. It was fun - lighthearted, silly, and ultimately positive. Recommended. It also has, in passing, a brief episode with Sacawajea, who I've recently read a bit about in Ambrose's Undaunted Courage (almost done there). It was the scene where a doctoral student with a writers block starts gushing comments upon meeting her:

"

You Rock. I'm a big fan...

"

Ambrose doesn't talk much about S. She is along as an interpreter to the Shoshone to ensure they can get horses for the non-riverine part of the journey, and is the 'wife' of their French interpreter (and on the way home acts as a guide in Yellowstone for Clark). But at one point she

does

take a stand: At Fort Clatsop on the Pacific shore, during their winter there, she

demands

to be taken to the shore upon hearing that a whale had washed up. Paraphrasing Ambrose:

"I walked all this way to see the big water, and now you tell me there is a

monster fish

. I must see it."


Wednesday - a long day.

I was able to update the TIVO. And I'm updating the blog, so that's something.


Tuesday - back at work.

When I checked the TV in the evening the TIVO programming had run out. But it

wouldn't

allow me to connect and refresh

- it insisted that I wait until after a scheduled 3 am system update the next morning. I just love the way the TIVO company puts

their

dammed unrequested update ahead of

my

viewing.

Monday - on the road, back to Lancaster. Sigh.



Book #32

was The End, A Series of Unfortunate Events, Volume 13, by Lemony Snicket. It was a rather disappointing finish - or lack of finish - to the series.

I did a bit of yard work at Dads place, but mostly sat around, which gave me time to read.


Sunday - not a lot to say. Relaxing and collecting my sports gambling winnings from Dad. My "snakes" and "yanks" are filling up the kitty very nicely, a quarter at a time.



Book #31

was Rainbows End, by Vernor Vinge. A good, imaginative, positive book. Sort of a just-pre-singularity setting. I see that it got rather mixed reviews at Amazon, so perhaps I was just in the mood for a

positive

view of the future.