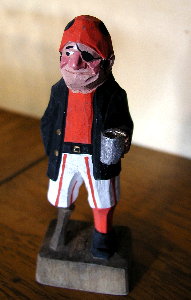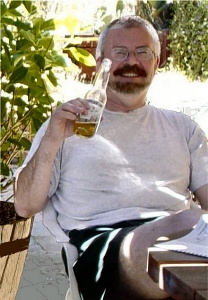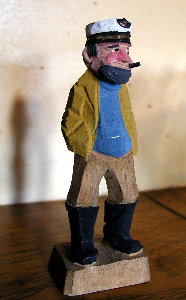 Travels and Images
---



Saturday - it was just about the hottest day of the year so far. So naturally I was out working on some bum lawn sprinklers. A friend is on vacation, and left someone else house sitting for her. I just passed by and noticed that her front lawn was

dying

. So I spent a few hours working on it, trying to save some of it. We'll see, I guess. Bad time to be on vacation.

I splurged and bought a NetDisk Attached Storage Device from Ximeta. It's an external drive, to be used for backups and such, and sits on the LAN

without needing a computer to host it

. I'm guessing it has some sort of embedded Linux inside, but it doesn't actually say that. It can also be used as a standard external hard drive with an included USB cable, or directly attached to your computers RJ-45 ethernet port. When I'm a little less hot and tired I'll give it a shot. Tomorrow, maybe.

Over at Voyage to Arcturus Jay Manifold mentions [ Friday, July 02, 2004 post] seeing Saturn for the first time through a 6" diameter Criterion RV-6 Dynascope, in the mid 1970's. That's about the time I first saw Saturn myself, but I had a much older and smaller 4" Dynascope; but following one of Jay's linked pages found this picture.

Yup, that's it

. Black bakelite tube, newtonian primary and a 24.5mm ( 1" ) eyepiece holder, partial equatorial mount.

It was late evening, I think, and I was in the eastern side yard of the house, and the planet was nearly vertical overhead. The finder scope was missing, but I had become adept at point the scope by sighting along the tube (there's a trick to it, avoiding a parallax style of error). I didn't know it was Saturn, and decided that the kitchen light was reflecting off something in the scope and going inside turned that light off (it was an old style glass fixture, looking like an upside down cake made of frosted pinkish yellow glass, so it

was

possible). When I went back outside I had to wait for my eyes to adapt to the darkness and then realigned the scope - and it was still there. After a little bit of focusing -

what a thrill

when I realized what it was!

Small but perfect

.

I had a lot of fun with that scope. It was used, and I recall that the eyepiece tube interior diameter was a bit on the small side - the eyepieces wouldn't all fit - so my father took it down to a local machine shop where someone ground it out. Eventually I adapted an old 24 hour mechanical time to act as a drive, clamped to the polar axis, and it worked remarkably well. The tube and legs eventually gave out, and were destroyed by moisture in the garage when I went away to college, but I recall seeing the mirror assembly tucked away in a corner of my fathers basement a few years back. I'll have to check and see it it's still there.

I've had a couple of scopes since, but have never put in the hours observing as I did with that first reflector.

Friday - the Belmont Club has an article on railguns, the DDX, and the future of the U.S. Navy. Very interesting. But will they have enough rum to drink?


T

hursday - looks like my new contract has come through, that's good. It's overcast and windy here - and not nearly as fun as it is at the coast. Oh well, life goes on.


Wednesday - had to go back and earn a living. Sigh. On returning to Lancaster I found that Jay Manifold of the blog Journey to Arcturus had posted a comment I'd sent him on photovoltaics in California [look for

8:36 pm

, blogspot doesn't do real URL's I guess]. Wow! Now I'm famous and everything...

I took the State Highway

166

back. The State Highway

46

is indeed straighter, but is a longer route, I think, and not nearly as interesting.


Tuesday 6 July 2004


Tuesday - the day's go by quickly. I try to get in a walk on the beach every day. We are located just above some tide pools full of standard ( 5 armed ) and mutant ( zillion armed ) marooned starfish hunting the marooned sand crabs at low tide. A life and death ballet in slow motion - well, the starfish are slow, the crabs are pretty zippy.

It's fun to watch life pass by from up on the bluff. Walkers, joggers, boarders, kayakers, sailors, lovers, retired couples, wet and sandy skinned children, ecstatic water dogs, seals, dolphins, pelicans...for a few moments they each grace us with their presence, and then like the sea, there is a change to something different yet similar...

For the weekend we ate in, to avoid the crowds, but have gone out for seafood, steaks, and Chinese. A visit to Leon's Bookstore in San Luis Obispo was in order, as was a touristy walk along the waterfront in Morro Bay. I'd offered to buy the boy a pound of saltwater taffy and there were so many selections that he was unable to choose without an adult's moral support.

Saturday we'd yard-saled (?) in Cayucos, talking to the sellers. One family was moving out of town, happy to get out of the eternal sea mists. Another had been there just a year and thought it close to heaven on earth, and had traded a 3000 sq. foot modern house in the San Joaquin Valley for an old 1000 sq. foot cabin. Another seller (a college professor from Cal Poly SLO) was clearing house of everything that wasn't needed in a 53 foot boat, preparatory to cruising to Mexico.


Monday - of course, there are official fireworks in the towns of Cayucos and Morro Bay, but the real deal is the illegal stuff on the beach. It's insane down there, fantastic fireworks. In fact, it's sort of scary - a lot of these people have

no idea

of safety at all, shooting rockets over peoples heads, trying to relight hangfires, letting children set off mortars...

Ah, but isn't that what it's all about,

freedom

? Even freedom to be a dangerous horse's ass?



Well, these two pictures are of the beach looking north. The first from the cabin, the second down on the beach.


This was supposed to be the beach to the south. But I dunno...
A close-up.
Sunday - Happy Birthday United States of America.

The Cayucos parade continues to grow in popularity, I think. Days before people are already "reserving" space along the street by placing lawn and beach chairs along the sides of the main drag. It says something of the low rate of crime that the chairs are still there, unmolested, on the morning of the fourth!

Last year we too placed chairs early, but left a couple of feet between the chairs and the road's limit lines - resulting in people plopping themselves down in front of us! This year the chairs were positioned such that their front feet just touched the limit line on the side of Highway 1 - so the latecomers and slackers had to stand behind us!

Lileks writes that his town's parade had only 2 American flags in it. Hah! Our beach town rocks! Flags everywhere! Too many to post - but here's a sample:

The Highway Patrol leads off, probably
to remind people to stay behind the lines for safety,
closely followed by the Marine Honor Guard with an
American Flag
Heck, this old ambulance has as many as Lileks whole town!
That Uncle Sam, he's a big 'un, and he has a lot of supporters here!
Go
Pack 235
!!
Some entries are patriotic,but lower budget, than others...
It was a toss up, whether to post the horse or the belly dancers...
Photo Notes
: This is a shot across the ocean, towards Morro Rock and the town of Morro Bay, from our (rented, alas) beach house in Cayucos. The colors are fairly true here, ranging from bright "disneycolor" in the sunlight to sullen grays in the fog.