| | | | | | | | | |
| --- | --- | --- | --- | --- | --- | --- | --- | --- |
| First Post, 17 March 2002 | Eight Years Ago, This Week, 2002 | Seven Years Ago, This Week, 2003 | Six Years Ago, this week, 2004 | Five Years Ago, this week, 2005 | Four Years Ago, This Week, 2006 | Three Years Ago, This Week, 2007 | Two Years Ago, This Week, 2008 | One Year Ago, This Week, 2009 |
---


Saturday -

Book #57

was Gibraltar Stars, the last in the Gibraltar Earth series by Michael McCollum. Eh. I'm not sure if it was wrapped up too neatly, or not neatly enough. McCollum style isn't usually to 'finish' a book by wrapping up things to a neat conclusion, but rather to leave a way forward for his characters.

This was another Kindle book, read on the 'Droid.


---

My Droid, I might mention, was recently updated to Android 2.2, 'Froyo'. Generally it seems like things work a little better, a little faster, with a few more options. I still haven't managed to get the voice dial to work properly - even when it recognizes a desired caller it still wants me to press a button, which sort of defeats the "hands free" idea. This may be an issue with my (otherwise very nice) bluetooth headset.

I did recover all my contacts - for some reason most of the categories were not checked as "visible". Seems like a goofy default, but there you go...

And I did download another app, this being "droidlight". Droidlight just turns the camera light on/off. It turns out to be surprisingly useful. I've done this before, but by the rather clunky method of turning on the camera, going to video mode, and using the flash in that way. An icon you just tap is a lot simpler.

Apps so far:

Astro
Wikitude
Google sky
Droidlight
AK Notepad, a note application.
PdaNet


I'm not exactly overdoing things I guess.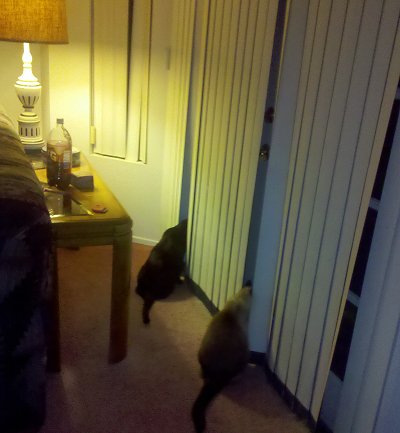 Something

piqued the interest of the cats....

T

hursday - working away.


---

The cat just vomited all over the floor next to me. That was five minutes ago. Now he wants to be fed. I don't think so, Riley.


---

After reading a bit about "flash" or "super" cookies, I put the BetterPrivacy and CookieMonster "addons" on my Windows PC. These remove this new sort of cookie, privacy tracking objects that are extremely hard to get rid of, very hard to find, and that store more detail that the old tracking cookies. Sheesh. Thanks for nothing, Adobe.


Wednesday 18 August 2010


Wednesday - working away on things. There is a bit of a time crunch, but it won't help matters to deliver a sub-par product.


---

I did take a nice walk in the morning, about 5 miles, and was

dripping

with sweat by the time I got home. The recent heat and humidity are a pretty awful combination. And five miles is about the limit I can go when walking in tennis shoes. After that I start to get "hot spots" which turn to blisters, so beyond that it needs to be hiking boots, sock liners and hiking socks, and a hydration backpack.

I should probably pick up some new liners, the old ones are almost worn through, and probably lack the "slickness" which helps them prevent blisters.

While I don't have any big hike scheduled, I hope to get in a few miles in September, work permitting.


---

A friend stopped by in the morning to use my oven. The county fair starts Friday, and her and her son's baking entries were due - and since they were running behind they used several ovens (including mine) in parallel to make the noon deadline.

It warmed up the house a bit, but the a/c is working and I got a very nice loaf of home baked cheese/nut bread out of it, so I think I came out ahead. Also some caramel/marshmallow treats.



Tuesday - well, I called AV Air, and the technician came out and put about 4lbs of Freon into the system. It worked - outflow is at 60F and below, so it was a fairly decent afternoon after that! It did take a couple hours to cool down to the low seventies from the mid 80's it had reached -

inside

- by the time of the early afternoon appointment.

Here's an amusing tidbit: Phoebe (who I have nicknamed "Braveheart" for his fear of all persons foreign)

immediately

ran over to the a/c tech and begged for attention. Go figure. Perhaps Cliff walked through catnip earlier in the day...


---

I bought something, and downloaded it onto the Sony Reader that I bought last year. A friend had borrowed it (the Reader), and asked me how the downloads worked. Sheepishly I had to admit that I had pretty much stuck to free stuff from Project Gutenberg, and free samples from here and there. Given what I paid for it in the first place this is a bit silly.

Results: This was not quite as seamless a procedure as the Kindle. There was software to download, passwords and configurations to enter, and then the purchase downloaded to the "library" on the computer and had to be manually transferred to the reader proper. And the USB link kept disappearing - probably a Vista thing, which made the transfer process confusing at first. Hmm. The Kindle benefited from my already having an Amazon account, but still, this was clunky.

Their science fiction selection was, to say the least, slim. I think there were a total of

51

items. Amazon has hundreds, probably thousands.

The item?

Asimov's Science Fiction Magazine

for December 2009 (the December issues are usually biggest). Price: $3.32, which isn't bad, actually. Probably less than newsstand. I used to subscribe to both Analog and Asimov, but after ten years or so realized I wasn't even reading them any more. They just stacked up on the side table.


Monday - miserably hot. I need to get that central a/c fixed. I worked from home, but whatever was wrong with me over the weekend kind of hung on, and I didn't get a lot accomplished.


Sunday 15 August_2010

Sunday - doing various things around the house. One big task was to purge and re-arrange the bookshelves. I've had piles of books and tapes sitting on the floor for months, a couple of rooms were becoming impassable. Moving books is one thing, purging them is another. But it has to be done...


---



Book #56

was John Crowley's Little, Big. I picked this off my bookshelf, not having read it since the

Bantam Spectre

paperback came out (1987). I remembered only that it was a fantasy; and it was a very pleasant re-read, well written, dense, with a nice eye for landscapes, details, and personalities. Oddly I haven't read any of his other work, some of which have very positive reviews.


---

The temperature did not hit 108F, but seemed to just graze 100F. No complaints here - that is more than warm enough!