First Post, 17 March 2002

Eleven Years Ago, This Week, 2002
Ten Years Ago, This Week, 2003
Nine Years Ago, this week, 2004
Eight Years Ago, this week, 2005
Seven Years Ago, This Week, 2006

Six Years Ago, This Week, 2007

Five Years Ago, This Week, 2008

Four Years Ago, This Week, 2009

Three Years Ago, This Week, 2010

Two Years Ago,
This Week,
2011

One Year Ago,
This Week,
2012
---



Saturday - Went to yard sales with friends, then to lunch. Home about 2:30pm and mostly just crashed after that. I was going to go out for pizza with friends, but was too tired and not very hungry anyway, after a big lunch at Mahli's, which has improved a notch or two.

Probably down to Ventura for several days next week, not much posting, probably.

The side yard was pretty damp, obviously I need to patch a broken sprinkler line. No big deal, it's just 1/2" pvc.

My hands are still sore, but not as bad as Thursday/Friday. Next weekend I can probably start up on stuff again.


The crowd entering at 10:00pm was a different crowd from the family types at 4:00, younger, tatted, halfway smashed already. It's a good time to leave - you could hear the chatter on the sheriff and security handsets picking up...

T

hursday - I did get out early enough to get a lot of the digging and pick work done in the shade. And there was a lot, but it's done now. As are my hands, which became painful and swollen in the afternoon/evening despite some ibuprofen. Guess time is catching up to me, but then pick work always means a lot of shock and impulse force to the hands. Now I need to lay things out exactly and squarely, and put the end restraints into place. Then I'll see about getting a cubic yard or so of base - hopefully I can borrow someone's pickup, though I could certainly use the little trailer too.

I looked up brick patterns for the collection of 1:5-1 and 1-1 pavers I have. It looks like either a modified "running bond" or a "I pattern" would work. The I pattern is a little more complicated, but looks better than the running bond, which is kind of plain. I have, after collecting all the pavers into one place, almost enough - depending on which pattern I need a couple dozen more of both long and short pavers.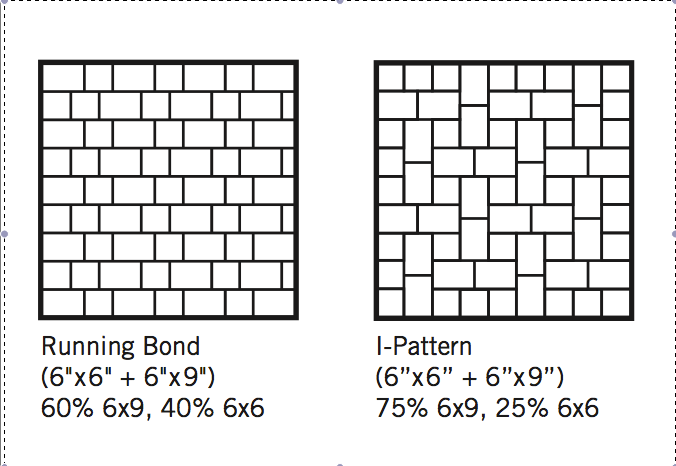 My pavers are actually 5.5" x 8.25, and 5" x 5", but the patterns would be the same.


I do need to find a spot for all the dirt I dug out. It's quite a pile. I've been meaning to put in some planters along the east and west walls, so maybe I can use this to start on those. There isn't nearly enough, but it would allow me to reduce the area of grass that I'm watering. Or there is a dead patch, where I could put a circular planter in as well.

Which reminds me, way back in the 90's there was actually grass in the side yard, so I have to pull out the unused line as I go. I'll probably put another length of pavers in, adjoining the current work area, same length but only about 6' wide because of the sidewalk. Adjoining that will be the still-extant green grass. Though I guess I could take some of that out too. It would save water, and give me an area to place stuff.


---

Though I can't put anything the cat could climb or jump on next to the wall. He doesn't seem to want to jump up on the fence, but no sense in creating a staircase for him!


---

I did a bit of work on the app, but my hands were too sore to type much at the keyboard. I did a bunch of reading, more or less finishing

Book #41

, iPhone iOs 6 Development Essentials, by Neil Smyth. Not bad. I say more-or-less because there were a few chapters of no interest to what I'm doing now that I just skimmed.


---



Book #42

was Admirals Trial, by Luke Sky Wachter. Number four in the series...what can I say?


---

It looks like I missed this years Perseid meteor shower, last weekend. Too bad, it was nearly a new moon and would have had nice dark skies out at Red Rock Canyon or wherever. Well, I was busy so maybe it's all for the best.

Wednesday - I meant to get up early, but actually didn't. Which is stupid, given the temperatures. So I started digging at about 7:30, and it's hard dirt. Not quite clay, but definitely pick ax soil. I needed to remove about maybe 75SF to a depth of 4-6". It was miserably hot, and I had to rotate through bandanna's to keep the sweat out of my eyes. Hopefully I don't get Valley Fever from the clouds of fines that I was stirring up! I got about 2/3 of that done before other stuff came up.


---

About 10:30am I stepped inside for a glass of iced tea and realized I had a phone message.

S

was looking for a driver to take her and her entries (and her son's) to the Antelope Valley Fair for the pre-fair judging at 11am. So I hopped into the Explorer and drove her over to the fair, and we dropped off the goodies. I am hoping for the discards, as always...



Tuesday - I went out and bought some more pavers, about 64; all I felt like carrying. They are up to $0.99/ea. now. Yikes. I need another 80 or 90 I think. I also bought another little sledge - actually a 4lb blacksmith's hammer - to help "ease" things into place. Also I'll use steel forming bar to keep the PT 4x4 in place, and I need a sledge for that. Somewhere I have a short handled 3lb, but I can't find it right now. Loading and unloading all this took up most of the morning. I also moved the pavers that have been sitting on the back patio around to the side of the house, nearer the work area.


---

In the afternoon it was a shower, then back to the app.

I made a quick trip down to Barnes & Noble to see if Erica Sadun's "

Core Developer ...

" book would be of use to me. It's got 5 star reviews, but really wasn't what I was looking for. The iOS programming section is pretty small at B&N these days (as is everything but Android - some day), and none of the other stuff there appealed to me enough to want to buy it.

Then I dropped by the library and returned some books that were due (including the Android programming books, which I haven't even opened). There was one iOS book on the shelf I hadn't seen before, so I checked it out just in case it might be useful.


---

It's hot out, 100F or so, and so I have the little mechanical a/c acting as a backup to the swamp cooler, as needed. Riley is a bit spooked by its turning on by itself, and gives it wary looks as he passes by...





Monday - I didn't sleep in. Instead I tried to get a fairly early start (while it was still cool) on working in the side yard, on the

Paver Installation Project 2013

.

Having moved most of the old brick out of the way I proceeded to clear and grub the area. There were various bits of debris, and some tools that had to be moved. Then I used the chain saw that I bought a while back to cut apart the large stump that's been annoying me for the past few years. This went well - the only hiccup being when the new hot chain jumped the drive sprocket and I had to let it cool down before resetting and re-tensioning it. The saw is for that sort of yard debris thing, but it should also work like a champ cutting the 4x4 PT to size....



The working area is about 100 square feet, which makes estimating materials fairly easy. Laying stuff out I can see that there will be a fair amount of digging involved, I need about another 4" for the base rock. It's hard dirt, and it's tempting to skimp in the dry climate here, but we do get some pretty good freezes and snowfall on occasion, so best to put the necessary drainage bed in. Also I need a LOT more pavers than I actually have.



After stacking up the clay bricks on the patio the other day I had a pretty good sized pile that I'll have to use up at some point:


This is what a pile of 500 brickes looks like.


There were some odds and ends left - in particular some 1" thick clay pavers that were mixed in. Since I needed the wheelbarrow that they were still in I looked around for a spot to put them. The little planter in the south east corner of the yard came to mind. I think they'd look good there, and there are enough left to do the same thing to the south west corner, should I ever get around to it.


---

In the afternoon/evening I worked on the app some more. Things are moving along there.

S asked an app maker at her conference last weekend how long it took to go from concept to product in store. "

About three months

" was the reply. Ulp. I've been fooling around with this for over a year, time to get serious and get something out the door.



Sunday - Keeping busy. The morning project was installation (sort of) of the new-to-me mechanical a/c. It fit in the window just fine, and I have it just sitting there now, propped up on some slump stone blocks outside, with a piece of cardboard in the gap above it. Not very secure, but I'll fasten in in properly and put a piece of glass, Plexiglass or plywood in shortly.

---

Mostly I worked on the app, working out some bugs in the logic. Or, rather, bugs in pointer referencing/dereferencing. Ah, the life of a "C" programmer. But I feel better about things now. There was, after I fixed that, a modulo operator bug for the random color selection that I had to fix as well.