First Post, 17 March 2002

Eleven Years Ago, This Week, 2002
Ten Years Ago, This Week, 2003
Nine Years Ago, this week, 2004
Eight Years Ago, this week, 2005
Seven Years Ago, This Week, 2006

Six Years Ago, This Week, 2007

Five Years Ago, This Week, 2008

Four Years Ago, This Week, 2009

Three Years Ago, This Week, 2010

Two Years Ago,
This Week,
2011

One Year Ago,
This Week,
2012
---



Saturday - I stayed at the boat Friday night, it was actually pretty quiet, except for the sea lions on the dock nearby. On Thursday night there were two, by Friday night there were five. Very noisy, and a bit scary to walk past in the dark.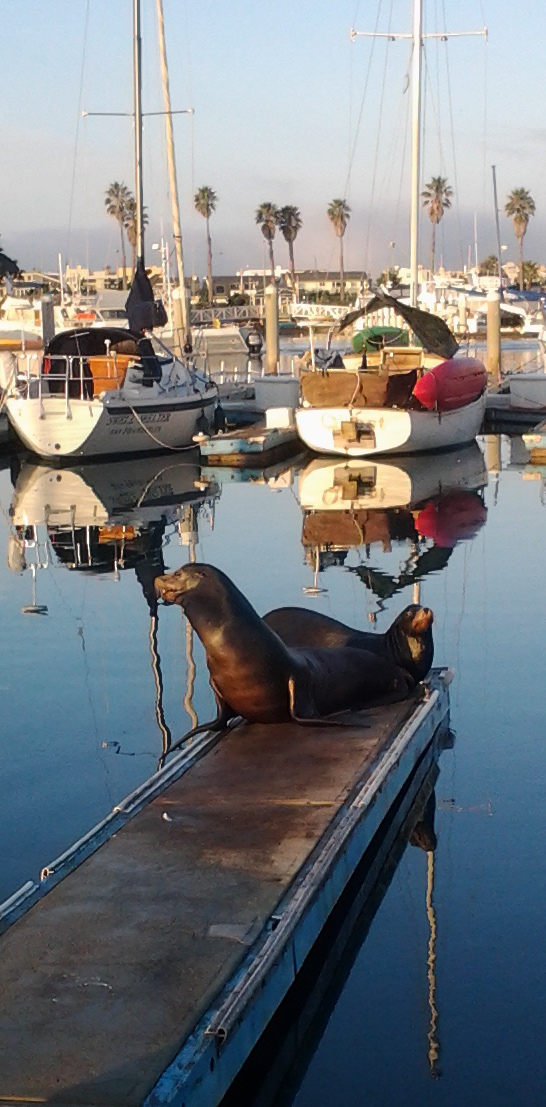 In the morning I headed back to Lancaster, and started on some yard work. After breaking for lunch with friends I pretty much passed out on the couch, then went back over for a conference on the iPad app, and to watch a movie, Goodnight Mister Tom, about a child evacuee from the Blitz in London.

Suzy is still pretty hissy with Jimmy, but I brought him over to my friend's place in the evening and he got along pretty well with all three of their cats. I think Suzy was feral, and despite my getting her at five or six weeks it still shows in various ways. Oddly she is, despite aggressively

following

Riley, very submissive when he boxes her ears - rolling over and showing him her throat.

When Jimmy does that to her she isn't having

any

of it, still angry. Well, it takes time. Tomorrow I'll let them both out of their respective cages at the same time, and see what happens.



OTR

.

There was a site visit to the I&I job in the morning. Things looked OK, the contractor seems to be moving along a bit slowly, but it is get done, and he hopes to be out to the site in Thousand Oaks on Monday.

I did have a nasty headache after the site visit. For some reason the contractor didn't have his fans running, and the smell of the polyurethane grout was overwhelming, so I suspect that was the issue. It stayed with me all day.

There was also a visit to the client about the EDR. They were pretty happy with the update, and we decided on how to implement the equipment code issue, so hopefully I can get that done over the weekend, create a little report and a deliverable, and the boss can do a billing for the work.

In the evening I went out to dinner with a friend. We were going to go to a comedy club, but the splitting headache caused me to beg off from a probably dark venue with spotlights. Instead we went to Black Angus and had a couple of nice steaks.


T

hursday - Working on the EDR stuff all day. The bug is essentially a 'feature' brought about by the expansion of the number of rows in Excel from 256 in the old Excel-2000 version to 16,384 in the Excel-2007 version. So it was easy enough to fix, once I figured out what to do. One other issue is documenting how to update the equipment list, and thats pretty much done.

There is also a desire of the client to use the same equipment identifier for different stuff. I understand where they are coming from (they don't decide on the ID numbers themselves), but Excel doesn't work that way. I have a couple of work-arounds to discuss, then we can decide what to do. I also need to re-run the daily's generator, and update the flat file and report scripts based on the decision with that.


---

Brought Jimmy downstairs and swapped him and Suzy in the big cage all day. Suzy is NOT happy sharing the house with a strange kitten, hisses and snarls. Well, she'll get used to the idea, and then they'll be best buds...


---

Down to Ventura in the evening, so I can be at the I&I site at 9:00am, then I'll talk to the EDR people in the afternoon. I may stay down there overnight, if things run late.

Wednesday - Trying to come back up to speed on the EDR stuff. It was mostly done, but I got pulled away for a while and there was one big remaining bug I needed to find and fix. I think I have a lead on that.



Tuesday - Talked to the inspector, the contractor hasn't moved on to the next job site yet. Serious pump problems. Amazing to watch, this guy has wasted more in wages for guys standing around with their hands in their pockets than a new backup pump, let alone a spare set of hoses and check valves, would cost him. Penny wise, pound foolish. But he doesn't take advice, so....

Jimmy seems much better, just the occasional sneeze.

Riley, on the other hand, is sneezing a lot. Until I thought to close the master bedroom door he was continually batting at Jimmy under the door. I can't be sure that he has the infection, but it seems quite possible.



Monday - Working on this and that. Pretty tired. S went to work - I have no idea how she does that...



Sunday - Doing various chores around the house, playing with the kitten(s).


---

It was a good trip, we got a lot done, but it was time to head back to Lancaster by early afternoon.


---
I was driving and S was trying to nap. Jimmy, unfortunately, is a persistent little devil, and WANTED OUT OF THE CARRIER. He meowed and yowled all the way to Tom's Farms, where we stopped. After letting him run around the car while stopped we decided to let him out for the trip itself. He was pretty content just to be held and S's lap, and eventually fell asleep without all the noise and fuss of the first half of the trip.

He isn't going to like being stuck in the bathroom all day again.


---

I see that the Republican's caved to Obama. So it goes, I guess. I never thought the right could win, but I didn't expect quite so quick and comprehensive a capitulation.

There is always a problem with playing chicken with someone who doesn't

care

if he loses...


---

To paraphrase Ernest Hemingway on bankruptcy:



Q: How did you go from a Republic of free men to a Facist police state?




A. Two ways. Gradually, then suddenly.