First Post, 17 March 2002

Twelve Years Ago, This Week 2002
Eleven Years Ago, This Week, 2003
Ten Years Ago, this week, 2004
Nine Years Ago, this week, 2005
Eight Years Ago, This Week, 2006

Seven Years Ago, This Week, 2007

Six Years Ago, This Week, 2008

Five Years Ago, This Week, 2009

Four Years Ago, This Week, 2010

Three Years Ago,
This Week,
2011

Two Years Ago,
This Week,
2012
One Year Ago,
This Week,
2013
---




Saturday - My hands were really hurting, so I didn't do much again, yard or computer, went to yard sales, dinner and videos at my friends place.



T

hursday - Working away on various things. Working with Tim on revisions to the report on the levee stuff, did a bit of yard work involving sprinkler risers, and of course, the app. Did a bunch of bills.

My hands are hurting again, so I didn't do as much on the app as I wanted. I guess that lately, between the app, the levee reports and working in the yard I overdid things again. But it's annoying, I have things to do.


---

Tim sent me this screen grab of traffic conditions yesterday. He needed to go from Ventura to down near San Diego. I'm reminded of the old comedy skit about "

You can't get there from here..

.".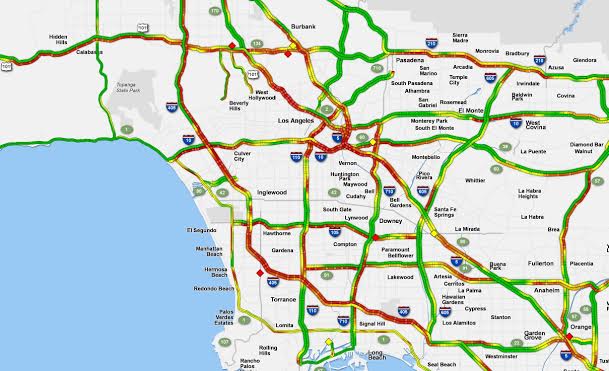 Wednesday 7 May 2014

Wednesday - Yard work in the morning, little stuff, then out to lunch with S at the 'A Touch of Europe' sandwich shop, and some discussion about how to handle 'deals'.

The app right now just changes things when the work screen is updated, with the standard quarter second or so transition. We need some sort of segue, so that the kids know that things have changed. We need to get their attention, show them things are changing, then get them to react to that. But we can't

exactly

show them, because then they're just playing a matching game, which isn't the kind of discrimination we are trying to get them to make.

So I've been working on the implementation end of that, CA layer stuff, but I need some direction on what will work best with the kiddies.

S has been working away on the web page side, getting content and imagery in order. It isn't going to be fancy, like the app itself, it's gonna be kinda minimalist/functional.

Also, it seems that the weenies in NY and Cupertino want us to actually incorporate if we aren't to be a sole proprietorship in the app store. $800, out the door every year, if we do it that way.


---

Also spent some time talking to Tim about levee stuff. He's grinding away on this stuff (very dry, levee inspection, heh...) and as someone who was in the field I can offer (hopefully) useful advice from time to time.



Tuesday - working away on this and that.



Monday - Did a bit of work in the yard, then worked on the app in the afternoon.

I did a bit of spot watering, put away the tools from the weekend work on the planters and block walls, watered FY and BY dry spots a bit, checked that there were no gophers in the traps (yet), and so on. It was a bit windy and I had internal household chores to attend to, so I didn't get a lot done outside, really.

Fiddling around a bit with the conversion to iOS 7. One of the things Apple did was to

deliberately break backwards compatibility of the standard UI button

. That button, which ran fine under iOS 5 and iOS 6 now is just a blank colored rectangle -

if

it can be seen at all. You

can

make it work, simply by changing the button type from 'system' to 'custom' and changing the image to 'background' - but Xcode

doesn't do this by default

, or even offer to do it.

Apple had to know this, and since the button is probably the most used interface item in iOS, it's really hard to ascribe it to stupidity rather than malice. On the other hand,

malice towards the people that make you money is, well,

stupid

.



Sunday - Another cool in the morning and windy later day.


---

I didn't actually do much. Not feeling 100%. Got up late, partly due to staying up late the night before.

I was over at R&S's for "movie night", which didn't go well. (1) We had planned to watch some "Shawn the Sheep" videos, those being a spinoff of the Wallace and Gromit series, but discovered that it was no longer on Netflix. No big deal, we pulled (2) 'Dark Shadows' out of the pile of DVD's, thinking an amusing comedy from Johnny Depp would be fun. But dropped that early, after the double murder, the double suicide and someone with blood running from their eyes... On to (3) 'Blue Planet', streamed via Netflix, Episode 8!

R & S

had seen episodes 1 through 7 and raved about them. Sadly Episode 8 turned out to be "

the baby animal snuff flick

" episode. We stuck it out through seagulls eating baby turtles, eagles eating baby birds, walrus's rolling over and crushing their young, but turned it off when they started showing Orca's tossing innocent baby seals up in the air for fun...

Eventually we settled on (4) 'The Croods', which was fun. But I don't think I got home before midnight.