| | | | | | | | | | |
| --- | --- | --- | --- | --- | --- | --- | --- | --- | --- |
| First Post, 17 March 2002 | Nine Years Ago, This Week, 2002 | Eight Years Ago, This Week, 2003 | Seven Years Ago, this week, 2004 | Six Years Ago, this week, 2005 | Five Years Ago, This Week, 2006 | Four Years Ago, This Week, 2007 | Three Years Ago, This Week, 2008 | Two Years Ago, This Week, 2009 | One Year Ago, This Week, 2010 |
---


Saturday - not much going on. Hot and humid - indeed, lightning and thunderstorms and rain through the afternoon and into the early evening. Kind of fun.

The cats were content to sit in the doorway in back and

watch

the show.


---

I took my friends boy down to the Park n' Ride in Palmdale, where he joined a group going down to Redondo Beach for some sort of Sea Scouts thing. I think there is a dinner on Wednesday that I've a ticket too, but am not sure if I'll be able to make it, because of work.


---

In other news one of my brothers has expressed interest in renting my parents old house. It's almost completely remodeled, carpets going in next week, so it's about time to get a renter. They say

never to rent to friends or relatives

, but it seems easier than getting a property management agency, and cheaper. Plus he will, supposedly, finish up the remodeling effort in the next few years. It wouldn't surprise me if he wanted to buy, after being in a nice place in a nice neighborhood for a few years.


---

At the advice given on a blog I took the top off my kitty litter box, so I could watch Phoebe do his thing. And maybe it helps - he seems to be straining, as it were, to get his business done. Cat's are prone to severe constipation on occasion, often due to dry food, and I wonder if he has some problem like that. I'll bring it up with the vet, on Monday if I can get in to see them. If an enema, extraction perhaps, and (expensive) low residue is what it takes, that's what I'll do. I've been trying to resign myself to the worst, but maybe it's something simple.




---

I did finish the last most recent Vorkosigan book, so

Book #102

is Cryoburn, by Lois McMasters Bujold. Light but enjoyable.


---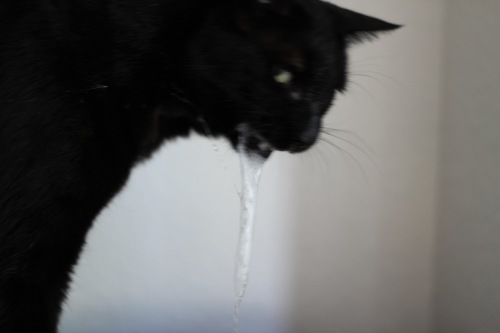 Phoebe, drooling after his medicine.
If I don't get the pill, whole, down his throat he can taste it, and it is indeed

vile

.

T

hursday - I was supposed to go down to Ventura to work, but other things came up, so next week. Looks like our candidate jobs impressed the client, so that's all good.


---

A while back, Week #33, I wrote about the recent attempt to drill to the mantle, and that long ago I'd read a book on just such an attempt. Coincidentally there is a post on Skulls in the Stars suggesting that this probably would have been a book about Project Mohole published in 1961, A Hole in the Bottom of the Sea: The Story of the Mohole Project.


---

There was a huge power outage yesterday - still ongoing - in San Diego County, millions without power. It's unclear as to what happened, but my friend Tim is very concerned about the food in his freezers...


Wednesday - not doing much. My back hurt a bit earlier in the week, and my hands are just on the cusp of not being stiff and hurting so I don't want to do any major yard work for a bit yet. It's nice not to be hammering the ibuprofen all day! But I am getting little things done.


---

I took a video with the T3i of how I force feed my cat with pills, and sent it to friends. Actually, it was so big - nearly a gigabyte for about 1m45s - that I had to run it through Quicktime Pro on the old laptop to export it as a cellphone sized video, under 2MB. I think the T3i will probably do smaller video natively, rather than the huge HD thing, but I'll have to check.


Tuesday - home again, and attempting to feed pills to my cat. He does NOT care for it. My first attempts were failures, he drooled, foamed at the mouth, and eventually spit the pills out.

Thank god for YouTube and videos on how to do it. The trick of getting them to lick their nose actually works: it activates the cats' swallowing reflex, so they don't cough the medicine up. I just dab a little bit of gravy on the nose, while holding the jaw shut for a moment after dropping the pills in, and as soon as they lick the ordeal is over.

By the way: I tasted the powdered pills and they are just as vile as Phoebe's body language indicated. If I didn't know it was medicine

I'd

assume someone was poisoning me...

Not much else going on, hot and humid out.


---



Book #101

was Diplomatic Immunity, by Lois McMasters Bujold. This is another in the long Miles Vorkosigan series, light but fun.


Monday - on the road, back to Lancaster.

It was a nice drive, with the occasional shower from the thunderstorms moving through southern California. A fire in the Devore area had left a definite pall in the air, despite the showers, but the roads were clear and dry through the mountains.

I think this might have been one of the nicest Labor Day's in quite a while.


Sunday - Still down in San Diego.

We didn't do much work, but had a nice barbecue in the afternoon and evening. One of Tim's nieces sang - she has a nice voice. I was impressed, no-one in my family has the slightest trace of any musical talent. A favorite song among all the young girls was If I Die Young, by The Band Perry. I guess sad songs about early romantic deaths never go out of fashion...

We had the MDA Telethon on in the evening - they've fired Jerry Lewis and reduced the length to six hours. The "acts" generally seemed rather B-list, but at the end they claimed to have raised $60 Million is donations. Hard to believe, but that's what they say.


---

I get little reports on Phoebe, he is not happy about the pills being shoved down his throat. Still, it has to be done.

As I mentioned, he's never forgotten

S

, who took him the first time to a vet. Now, after failing to get him to eat the pills powdered into tuna, she is subbing for my usual cat sitter for the weekend, and clearly making him remember that she is his own personal Satan.