First Post, 17 March 2002

Ten Years Ago, This Week, 2002
Nine Years Ago, This Week, 2003
Eight Years Ago, this week, 2004
Seven Years Ago, this week, 2005
Six Years Ago, This Week, 2006

Five Years Ago, This Week, 2007

Four Years Ago, This Week, 2008

Three Years Ago, This Week, 2009

Two Years Ago, This Week, 2010

One Year Ago,
This Week,
2011

---


Saturday - Another very hot day. I did a few chores, but it was just too hot out to do much.

In the afternoon I decided to head up to Tehachapi, and stay at a friends place there overnight. This decision was the signal for the lightning and thunder to start:


Rain showers (& lightning) in the west Antelope Valley



In the hopes that it would calm down in the evening, and let me see the Perseids I persevered.

It was nice up there, at least relative to Lancaster, only 90F or so. But still humid and overcast. In fact it was sprinkling, warm summer rain. Waiting for it to clear I pulled a lawn chair out of my Explorer and did some reading.


Clouds over Tehachapi, before sunset.

Alas, it never cleared. I stayed up until nearly midnight, then got up at 2am and 4am to check - solid overcast each time. Well, so it goes.


---



Book #69

was The Golden Age, by John C. Wright. I liked it, though it's a bit hard to categorize. Sort of post-Singularity, a bit like the Ian Bank's Culture novels with relatively benevolent super machine intelligences, and a bit of space opera.




---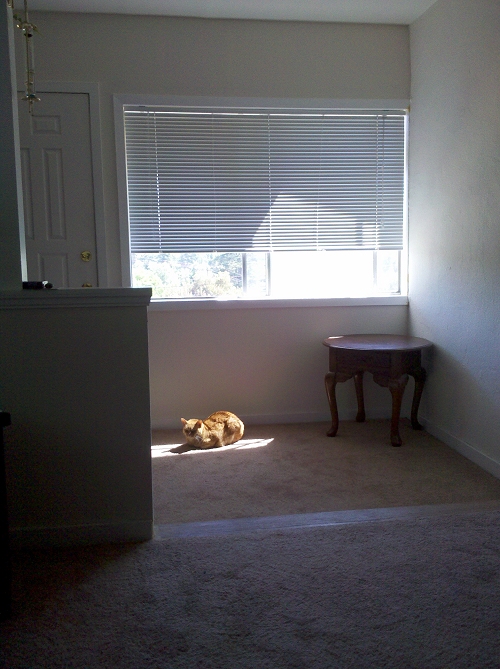 Rita

T

hursday - I mentioned finishing Unbroken yesterday. Today I returned it to it's owner, who in turn immediately loaned it to her intern, who is leaving by car today, traveling across country to start grad school in Virginia. I warned her that there were some dark parts about the third CD from the end, but that it picked up and had a cheerful and relatively upbeat ending.


---

It is miserably hot here. It hit 110F according to the car thermometer, and 108F according to the weather underground. I took this picture, just for the record:


---

I started looking at drawings and documents for the little project, and talked to Tim at length about what we want to do for specifications on the decommissioning for these tanks.


---



A

couple of weeks back

Book #62

was Redshirts, by John Scalzi. A fun read. He bases his plot on the idea that the crewmen in "red shirts" that beam down to planets always die horribly, while the Captain and First Officer survive - and comes up with a reason for it. Oddly enough this same subject was mentioned on this blog and this same week in 2007!


---

One oddity while watching the Olympics was the female volleyball star, who yelled "

Go Dodgers

!" after winning against rivals. I appreciate the sentiment, but thought it a bit odd. It turns out that

Misty May-Treanor

is married to a Dodger player,

Matt Treanor

. I see that she and her teammate

Kerri Walsh Jennings

took home the gold again, for the third Olympics running. I didn't see that, but I saw them easily crush the Venezuelans and have to fight hard against the Chinese team. Some amazing plays and rallies, on both sides, in that game.

They actually played against

another

American team for the gold. Odd.


Wednesday -

OTR.

We started putting the actual deck down. I got about 3/4 of them done before leaving for Southern California. It'll be a bit tough for

V

to finish, but the ends have been predrilled and are ready to go. She'll just have to take her time and pre-drill the center bits. I could do it without pre-drilling, but actually had sore wrists and a bruise on the web of my thumb from the torque of the big drill when doing it that way.


The deck, with the structure still being assembled.
---

Headed south around noon, got home about 6:00pm. It hit 104F in the central valley, and was about 101F when I got to Lancaster. The house looked good and the cat, while happy to see me, was not crazed with loneliness.


---

I finished

Book #67

, Unbroken, by Laura Hillenbrand. This is the story of Louis Zamperini, an Olympic competitor in 1936, and his life, concentrating on his horrific experiences as a prisoner of the Japanese in WW2. It's a wonderful story, if a bit grim in parts, and I heartily recommend it! This was the unabridged audio CD, which made the trip up and back so much nicer.



Book #68

was The Cruel Sea, by Nicholas Monsarrat. I reread it the other day, when I really should have been doing other things, but what the hell.


---

We'd thought that there might be a planning meeting Thursday down in Ventura, but that is delayed until next week. I'm just as happy - it's been a long, long five or six days.



Tuesday -

OTR.

For some reason the old cross members no longer fit properly. I'd labeled them, so I'm not sure why. Perhaps the original frame wasn't as square as the new one?

In any case, because of a warped board we had to double up the midspan beam, so the sizes would have been off anyway.

Then we gave all the deck supports a coat of new paint, and painted three of the four sides of the new decking planks, leaving the top to be finished after installation.

Monday -

OTR.

We went to the local Home Depot and Lowe's and looked at lumber. For cost and ease of maintenance we went for redwood, and my sister decided to paint rather than stain or varnish things. Lowe's had a better grade of medium quality redwood, so we got the lumber there, including also a new ledger board since the old one was warper beyond use. Also decking screws and another 4x4. We then rented a truck - they only had one - and brought the lumber back to the house.

We also picked up some bark and ground cloth, to hopefully keep the weeds down under the deck. I recommended weed killer as well, but my sister didn't want to.


Sunday -

OTR.

Working in the back on the deck again. This was mostly the setup and alignment of the basic frame. Because we were re-using existing lumber there were a few things that weren't really to my liking, but there wasn't much to do about it. We moved the frame a bit, east, so as to make a larger pathway from the side of the house, and rotated it so that it didn't overlap the concrete path directly next to the pool. Since it's 120sf and under 2' high it doesn't need to be permitted by the city, but you want to be safe about things like that. Once located where we wanted it I used a string to measure the diagonals and get it square. It's funny, the eye is easily fooled, it was a good 6" out of square the way I initially set it up, but it looked fine after too.

Once square the piers were leveled (more or less) on the sand, the 4x4 posts measured, cut, and attached. This took most of the rest of the day.


---

In the evening we generally watched the 2012 Olympics. This is a synopsis of the actual games, and concentrates almost solely on the American competitors. Interesting though.