| | | | | | | | | | |
| --- | --- | --- | --- | --- | --- | --- | --- | --- | --- |
| First Post, 17 March 2002 | Nine Years Ago, This Week, 2002 | Eight Years Ago, This Week, 2003 | Seven Years Ago, this week, 2004 | Six Years Ago, this week, 2005 | Five Years Ago, This Week, 2006 | Four Years Ago, This Week, 2007 | Three Years Ago, This Week, 2008 | Two Years Ago,This Week, 2009 | One Year Ago, This Week, 2010 |
---


Saturday -




T

hursday - working on this and that.



From 2008:




Well, the Rays forgot to show up for the series, and that cost them. So it goes. Dad won 75 cents overall for this World Series. More calls from the neighbors about loud music and loose women in the offing I suppose...



I miss you Dad.


Wednesday - The moronic Occupy Wall Street movement has clones in various places. When I heard there was one in Oakland I recall laughing out loud. Kind of a incredulous laugh, a "

Who the HELL thinks this is a good idea?

" kind of laugh.

And, indeed, trouble has arisen there. Trouble as in

rioting

. Other cities have the noise, garbage, filth, drug use and sales, fights, theft, rape and other indicators of man in his natural anarchic state, but Oakland is outdoing them with outright pitched battles, police versus occupiers, with batons, rocks and firebombs.

It'd be hard to think of a worst place for a peaceful demonstration. Watts, Detroit, places like that, maybe. But Oakland is right up there. I grew up near there. I had a sister live and work there. I have another sister living near there still. The inhabitants are violent and corrupt, the police are violent and corrupt, the city government is incompetent and corrupt. Violence was inevitable.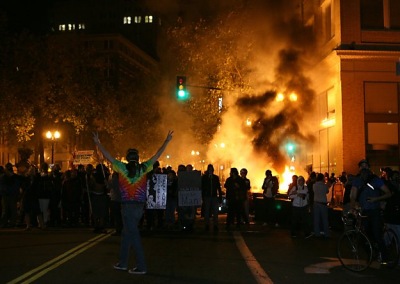 ---

Lunch was at the Thai Cafe' with some friends. The big news is that their seventeen year old has finished the bookwork for his drivers' license, and now has to go to the DMV and get his learner's permit. Then the

real

fun starts, for his parents...


Tuesday - My friend Tim pointed out that last week's POTW, that I labeled as being in May1995, is actually

time stamped

April 21, 1995.

Well...yes.

In my own defense while scanning and resizing the photo I didn't really pay attention the time stamp (to paraphrase Sherlock Holmes: I saw but did not observe). I had actually looked at the postmark on the envelope to get the date. I still had the mailer for some reason, my sister having mailed the photo's to me way back in the pre-digital-camera dark ages.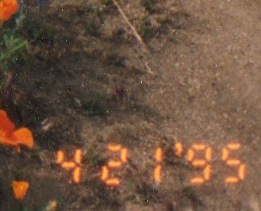 vs.

In honor of Tim's

Holmesian

powers of observation I have left that POTW up for this weeks as well. With a corrected note.


---



Book #129

was The Masuda Affair, by I.J. Parker. Enjoyable.


Monday - Halloween. My friend Roger has put on his usual amazing display. Despite it being a school day there was a really good turnout before 9:00, the best in some years. The weather was mild, which helps. Many Halloween's I've spent in ski overalls, but I think that all I had was a sweater over a t-shirt.


Sunday - Another decent day.


---

I can't say that I've been very productive this weekend, feeling a bit slow.



Book #128

was The Convict's Sword, by I.J. Parker. This is another in theSugowara Akitada series. Well done, again.