Fourteen
Years
Ago,
This
Week
2002
Thirteen Years Ago, This Week, 2003
Twelve Years Ago, this week, 2004
Eleven Years Ago, this week, 2005
Ten Years Ago, This Week, 2006

Nine Years Ago, This Week, 2007

Eight Years Ago, This Week, 2008

Seven Years Ago, This Week, 2009

Six Years Ago, This Week, 2010

Five Years Ago,
This Week,
2011

Four Years Ago,
This Week,
2012
Three Years Ago,
This Week,
2013
Two
Years
Ago
This
Week
2014
One
Year
Ago
This
Week,
2015
---





Saturday - Cooler.

I did some morning yard chores, bills, stuff like that.

Lunch at Mahli's in Palmdale, then a brief trip to Trader Joe's. A lot of traffic, but it is a holiday weekend.


---

Since I'm walking again, it's time for "Found CD Theater". Though these days it's mostly DVD's it seems:


Baby Einstein preview. The parents opted for

Baby Newton

instead I guess...
---

I'd sort of forgotten until I was doing the first of the month bills that the smog test was due on the Explorer by next week. I was certain it would fail - it had been flirting with the HC limits the last couple of tests. This suggested a failing catalytic converter (at 259K miles not a surprise). I read up a bit and the blogs and forums suggested (1) use low octane gas - it burns easier, and (2) make sure you've gone a good distance at high speed and de-coked the catalytic converter.

So I filled it up with good Chevron low octane, and drove to the Edwards AFB north gate and back with the overdrive off (~3000RPM). And went to my usual smog place immediately on return.

Only to discover they'd lost their STAR smog certification. But they gave me a coupon for $20 off and sent me to their sister station - which in turn was in the throes of some sort of maintenance and unavailable "

for an hour or two

". I think they've changed owners....

Having just driven 90 miles to get things hot I wasn't ready to let things cool down just to save $20 and I went to a third place, got right in, and to my amazement, passed with flying colors!


---

Otherwise I did some chores and stuff around the house. I'd started making an

up-duct

hatch for the attic the other day, so I finished that and gave it a couple coats of paint during the day. I need some spray texture, but we'll see how it works before spending more money on it.

In order to get to my tools I had to do some garage cleaning, and find and then put my tools away. Which took a couple of hours.


---

I'm watching Sammy, my friend's dog, while they are away for the long weekend. We get along pretty well, though the cats are dubious about the whole business. She likes walks (what dog doesn't) but I'm not sure her paws are up to 10 miles....


---

What with one thing and another, little app work. My hands are trashed, so maybe that's good.



Thursday 1 September 2016

T

hursday - Average hot.

Working on the bug list again. I'd generated a couple, and it took me most of the day to find the first - I'd redefined a C variable (a CGRect) in the same scope and was overwriting the first, and Objective-C

and Xcode had no problem with tha

t. No warnings, no "hey by the way" or anything. Sheesh.


Wednesday - Average hot, 100F+.

Worked on the app in the morning, bug hunting. Then after lunch put it on the small iPad and delivered that to S so she can play with it, and maybe try it out on the kids tomorrow.

Just demonstrating it showed some

brand new bugs

that

my

punchlist work had created. Sigh. So it goes.

I also looked at

her

demo video for the app store - pretty darn impressive! There's a lot to show, and she's done some great work on it. It zips along - the allowable 30 seconds feels more like ten to me... I guess that's good?


---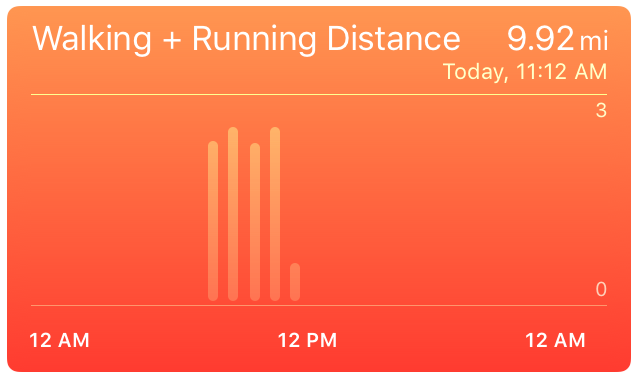 Yesterday's walking record from the iPhone. It tends to read a bit low I've noticed.




Tuesday - Very hot. It was 106F officially - my patio thermometer showed about 115F.

Took a long walk in the morning, 10 miles. I got started reasonably early, 7:00am, but it was pretty windless and kind of toasty out. A liter and a half of water was barely enough. The feet were sore, but not too bad.

Worked on the app afterwards. I discovered a sort-of bug on a previous level while doing something else. It was working - but not the way I expected it to, so I had to spend a couple hours figuring out why and fix it...


---

Had the swamp a/c on full blast, and the upstairs window mechanical unit, but had to quit working in the office early (4pm) because it was 90F in there. 81F downstairs.



Monday - Hot again.

Didn't walk in the morning. I'd planned on it, but was feeling a bit under the weather.


---

Started on the app's punch list items. Some are straightforward, some kind of tricky...



Sunday - Hot.

There was a bunch of shopping in the morning, the cupboard was getting bare.

I did some chores around the house and yard - in particular some cleanup in the back yard. Did a bit of trimming in the rose garden in the front too.


---

Too hot to do anything outside in the afternoon, so just stayed inside and did some reading. It was tempting to work on the computer, but it's best not to.



Book #39

was League of Dragons (T

emeraire #9)

, by Naomi Novik. This was the latest in Novik's fantasy of dragons in the Napoleonic era and, supposedly, the last. It was well done. These aren't cutesy-pie dragons, but are mainly used in war, and they are usually poorly treated by humans - Napoleon being the exception,

but only because he needs them

. The human protagonist feels a bit sorry for Napoleon, who loses because of treachery, but that is ameliorated by his realizing that Napoleon shows not the least remorse or regret for the millions who died in his failed invasion of Russia.