Fourteen
Years
Ago,
This
Week
2002
Thirteen Years Ago, This Week, 2003
Twelve Years Ago, this week, 2004
Eleven Years Ago, this week, 2005
Ten Years Ago, This Week, 2006

Nine Years Ago, This Week, 2007

Eight Years Ago, This Week, 2008

Seven Years Ago, This Week, 2009

Six Years Ago, This Week, 2010

Five Years Ago,
This Week,
2011

Four Years Ago,
This Week,
2012
Three Years Ago,
This Week,
2013
Two
Years
Ago
This
Week
2014
One
Year
Ago
This
Week,
2015
---





Saturday - Warm, but not hot. Glen came over and we put in a full day on the planter, digging it out and laying most of the base courses. I had some inflammation issues with my hands and back spasms so

G

had to do most of it, but he's getting faster and better at it as we work.


---
---

On the road back to Lancaster I saw this:


The driver, and people going east, were having a bad day...
---

The house looked good on return. Glen did some yard work but with finals approaching didn't have time for much else. We'll work on the new planter tomorrow.

The two cats were very very happy to see me. Suzy will share space with Glen, Jimmy hides under the beds still.



Thursday 12 May 2016

T

hursday - OTR.

The contractor is making good progress, he'll be done tomorrow or the following Monday. Yay!

Nice weather, a marine layer overcast in the morning, mixed clouds and sun in the afternoon. Apparently it's in the 90's in Lancaster.

Still, I'm eager to get home. A month on the road every weekday is plenty. And the sea lion noise is getting worse and worse. It probably woke me up five or six times last night - I ended up taking a nap (sadly, not billable time...).


---

Things

were

going swimmingly on the app, built about four or five layers of nested objects, got them to display, compile without error. Then I noticed the text in a UILabel wasn't centered quite right. "

Hmmm

" sez I, "

Guess I'll set the vertical alignment to center!

".

Only, this being

*%#@!

Apple,

you can't vertically align text in a UILabel

. Only horizontally.


Wednesday - OTR. Hump Day.

Things are proceeding well enough. We are trying to get a couple of items associated with the contract finished, but are depending on others to show up....

Working on the app between field visits. Trying to make the logic for two similar things one block, rather than two. It's coming along OK I guess.

The cat sitter reports the new Kindle showed up, so that's good.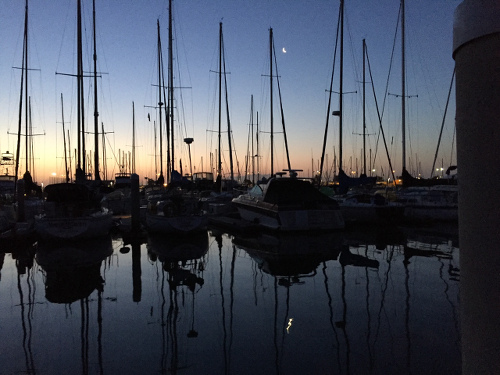 The old moon over the marina, early morning.

Tuesday - OTR.

The contractor is almost done with the 4th reach, and moving on to the 5th and last. This job might actually end on time!


---

I did a bit of work on the app, at least keeping the project warm, if not particularly hot. Refactoring stuff, sigh.... I even downloaded some sample book bits on refactoring and OO programming. Pretty dry stuff.


---

The sea lions were particularly loud for a bit. I finally stuck my head out and discovered: the harbor tour boat was nearby and the passenger's

were shouting and yelling at them

, exciting them. Stupid, rude, and, I believe,

illegal

. A guy a few boats down was playing his radio, too.

Yesterday somebody across from me decided his twin diesel's needed exercise...at 7pm. Sheesh.



Monday - OTR. Down to Saticoy for inspection work in the early am hours.

I was very early, so I napped for an hour before going to the work site.


---

Dave has very kindly let me use a 27" monitor in the office for my MacBook, so I am trying to get back into things. S has made some substantial changes, so the complexity has increased and I am trying to simplify through more reusable and general purpose objects.



Sunday - Calm and warm in the morning. I laid around in the morning, but had more energy than Saturday.

There was house cleaning, yard cleanup, laundry, shopping, checking air and oil for the Explorer, and the usual assortment of odds and ends to take care of.

I did put in the rest of the tomato plants, plus two Anaheim peppers and two Bell peppers. I have two spots left in the planter still.


---

I finally ordered a new Kindle, the old one having page turn button problems and not displaying graphics in technical books well (or at all, sometimes). I feel a bit guilty about it, I'm trying not to spend money if I don't need to, but... I bought the mid-lineup Paperwhite, which should hopefully serve me for another six or seven years.


---

The cats are pretty needy, demanding to sit on my lap. They are not quite terrified of Glen, but not exactly comfortable with him either, particularly Jimmy. Well, another week or two and I'll be home.